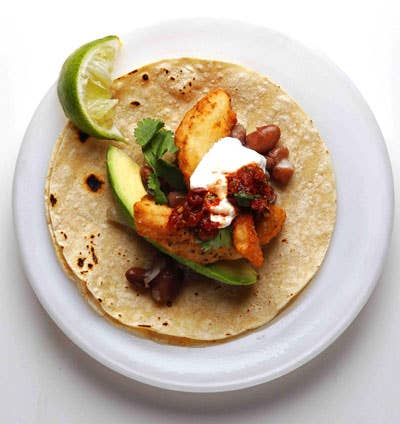 Recipes
Fish Tacos with Mango Salsa
These sweet and spicy fish tacos, filled with grilled snapper, pair perfectly with Ommegang Witte, a crisp and refreshing Belgian-style wheat ale.
FOR THE MANGO SALSA
1/2 cup mango, finely diced
1/2 cup red bell pepper, finely diced
1/4 cup red onion, finely diced
1/2 serrano chili pepper, finely chopped
2 tbsp. fresh cilantro, finely chopped
1 tbsp. freshly squeezed lime juice
1 tsp. honey
1/4 tsp. kosher salt
FOR THE TACOS
1 lb. red snapper fillets
1 tsp. ground cumin
1 tsp. extra virgin olive oil
8 corn tortillas
2 cups raw red cabbage, shredded
2 lime wedges
Kosher salt and freshly ground black pepper
1. In a medium bowl, stir together the salsa ingredients. Taste and adjust the seasoning if necessary. Cover tightly with plastic wrap and let stand at room temperature for at least 30 minutes or up to 4 hours. Meanwhile, season both sides of the fish with cumin, salt, and pepper. Brush both sides with oil. Heat a grill or a grill pan over medium-high heat until hot but not smoking.
2. Grill the fish, turning once, until just opaque in the center but not flaking, about 4 minutes on each side. Transfer the fish to a cutting board and cut into chunks.
3. While the fish is cooking, heat the corn tortilla on the grill until hot, about 30 seconds on each side. Transfer each tortilla to a plate and stack between layers of aluminum foil to keep warm.
4. Divide the fish chunks among the 8 tortillas. Top each with 1/4 cup of the red cabbage and 1/4 cup of the mango salsa. Squeeze lime juice over each taco and serve hot.