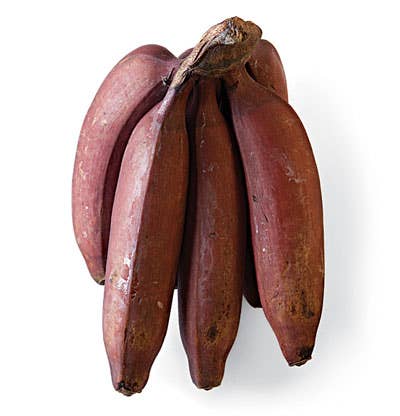 Techniques
5 Banana Varieties
In the U.S., a single type of the fruit dominates, but thousands of beautiful, delicious kinds of banana thrive elsewhere in the world.
More than 95 percent of the bananas sold in the U.S. are Cavendish, the cultivar that has dominated the market since the 1970s. But a handful of the thousand or so other banana varieties out there are becoming available to consumers in this country. For anyone accustomed to the mild taste and mushy texture of the Cavendish, many of these varieties will come as a revelation. Here are five types that can be purchased at supermarkets and specialty grocers, through mail order, or online.
Baby The Mini brand is trademarked by Chiquita; you'll find similar fruit sold by Dole under the Baby name. Because they're half the size of a standard Cavendish, they're generally sold as a snack product for kids. More than one cultivar makes up the Baby/Mini category. Chiquita's product is the Pisang Mas variety, originally from Malaysia; Dole's Minis include two types: Ladyfinger and Orito. The Ladyfingers are the sweetest and best tasting of them all, but since there's no reliable way to determine which kind you're getting, you'll have to undertake some delicious trial and error. These fruits must be very ripe to reach full sweetness; their skin should look deep brown, with dark streaks. Brown bananas have proven a tough sell to grocery shoppers, who tend not to let miniature bananas ripen enough and wind up disappointed. It's worth the wait.
Manzano This variety, native to Central and South America, belongs to a subcategory known as apple bananas, and the name fits. The texture of a Manzano is firmer than that of the Cavendish, and the scent is complex, marked by a strong tart-apple aroma. The taste, too, is tart—at least when you first bite into the fruit, whose flavor quickly gives way to sweetness. Though you can sometimes find Manzanos at supermarkets, Asian specialty stores are your best bet.
Burro This fruit—occasionally sold under the name chunky banana—is stubbier and fatter than the Cavendish. The Burro is grown in Mexico and is often available at Latin American markets throughout the U.S. As with many non-Cavendish varieties, you'll want to let this fruit ripen a good long while (the skin should be yellow) in order to enjoy the full extent of its sweet-and-sour taste, which I've always thought of as a cross between a lemon meringue pie and a banana cream pie.
Plantain Actually an entire subset of the fruit, plantains are a kind of banana that is usually cooked. With a few exceptions, these rarely reach the eat-raw sweetness of varieties like Cavendish (which are officially categorized as "dessert" bananas). Plantains have been on our shores longer than the Cavendish and are a cheap and delicious substitute for potatoes or rice in many Latin American cuisines. My favorite way to enjoy plantains is as Cuban-style tostones: just slice the fruit at a deep bias and fry the slices in peanut oil, letting them drain on paper towels; then flatten them and fry them again. You want to end up with crunchy chips that are still a bit soft on the inside. Sprinkle the chips with salt and dip them in your favorite salsa, or in a garlicky mojo sauce.
Red This is, in my opinion, the most delicious of the alternative banana varieties available in the U.S. Sometimes confused with a Philippine staple variety called Lacatan, the red banana has a sweet taste and a creamy texture. The ripeness of a red banana is tough to gauge; look for ones that have turned a dark magenta with streaks of umber. Their flesh bruises easily, so handle with care.