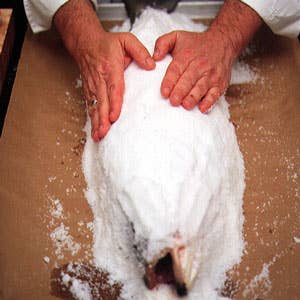 Techniques
Baking a Stuffed Wild Striped Bass in a Salt Crust
Stuffing a wild striped bass imparts a rich flavor and helps the fish retain its shape, while cooking it in a salt crust leaves it perfectly seasoned. We learned this technique from chef Jonathan Waxman.
1. Using a mix of citrus and herbs, stuff the cavity of the fish, being careful not to overfill it. This will both restore the bass to its natural shape and give it a rich flavor.
2. Enclosing the fish in a crust of salt ensures that it will cook evenly and remain moist, and leaves it perfectly seasoned. To make the crust, separate 8 egg whites into a large bowl and whisk in coarse salt. Make a bed of salt slightly larger than the fish in a lined sheet pan and lay the fish upon it.
3. Pat more salt around the top and sides to enclose the fish.
4. Baking the fish turns the salt crust light brown and hardens it.
5. Removing the crust is simple at this point: Gently insert a knife along the edge of the crust, about midway between top and bottom, cut around the perimeter of the fish, and pry off the crust in one or two pieces.
6. Peel off the skin and lifted the flesh from the bones.
The colorful herb and fruit stuffing is exposed, and the fish is ready to be served—and savored.