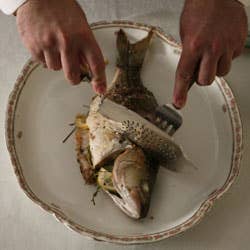 1. Place the fish on a platter with the belly toward you. Using a fish knife and a fork, loosen the skin behind the gill and carefully remove it by lifting it back toward the tail.
2. Using the fish knife, make a lengthwise cut along the center line of the flesh. Then make a second, crosswise cut in the middle of the fish to make four quarter filets.
3. Run the knife under the filets to separate them from the bone. Working with one piece at a time, gently push each quarter filet off the bone and transfer it to an individual serving plate.
4. Gripping the fish's tail, gently lift the backbone up and away from the bottom half of the fish. Set aside head and backbone on serving platter and repeat preceding steps.