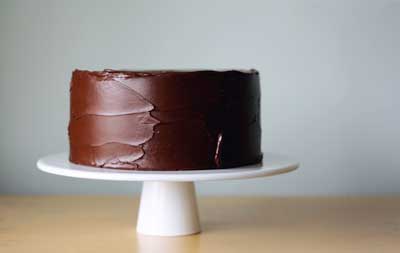 Techniques
Haute Cakes: Modern Cake Decorations and Designs
Layer cakes have that uncanny ability to make any day seem like a special occasion. There's something inherently festive about a cake, sandwiched and swirled in buttercream, waiting on the counter on a stand and under a dome; you can't help but smile at the sight. I don't know when I became the primary cake-baker in my family, but I can say that I've stacked a lot of cakes since taking on the title.

 I've learned that the magic is in the details when it comes to layered cakes, and it starts with solid basics:
Straight-sided cake pans give the best edges.

Trimming the layers not only makes for a level foundation but also opens up the cake's crumb, providing footing for the filling to take secure hold.

When assembling a cake, a proper cake decorating turntable is a smart investment; that said, an inexpensive lazy Susan works in a pinch.

Consider proportion; a cake that's taller than it is wide is usually more formal than one with measurements reversed.

Choosing a cake plate or pedestal is the finishing touch, the flourish that complements the overall composition.
The cakes that follow have been decorated with either an offset spatula or palette knife. Sweet simplicity at its best, fit for both special occasions and everyday celebrations. _