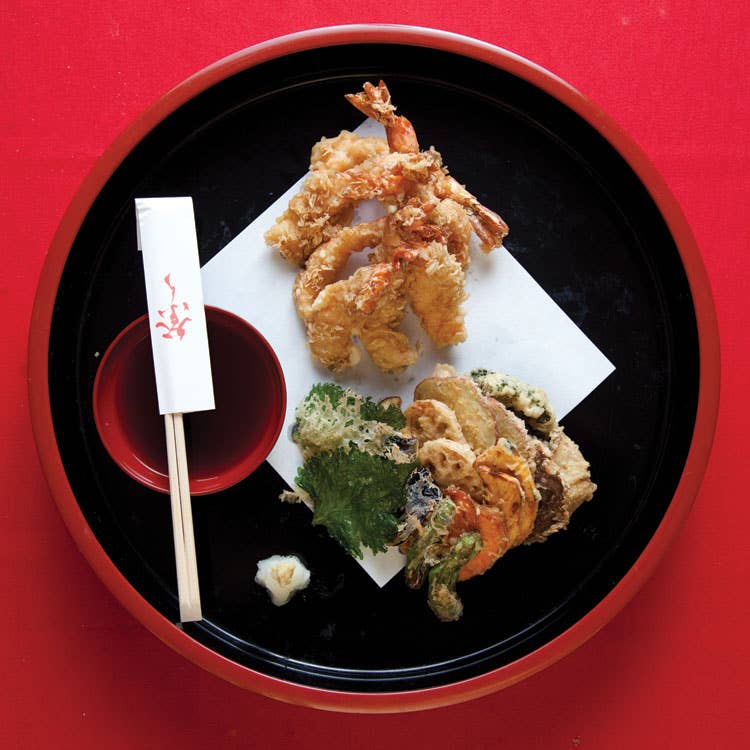 Techniques
Light as a Feather
The key to achieving perfect tempura is to make a seemingly imperfect batter
At its crispy, gossamer best, tempura is unlike any other fried food. I remember the first time I ate at one of Tokyo's tempura-ya several years ago. At these specialized tempura shops, the chefs are experts at the technique, in which seafood and vegetables are dipped into a simple batter of flour, water, and egg yolks, then quickly cooked in hot vegetable oil and served piping hot. The deep-fried shrimp I ordered that day were steaming, sweet, and tender, with an airy, remarkably greaseless crust. Extra wisps of crunchy batter clung delectably to each piece. They were accompanied by a soy sauce-and-rice wine dipping sauce that was peppered with fresh, spicy grated ginger and daikon. I savored every bit of that tempura; for an American used to doughy batter-fried foods, it was a revelation.
Since then, I have eaten tempura innumerable times, in diners and noodle shops and at friends' homes all over Japan. Typically, it's been served alongside soba or udon noodles. Often it's paired with an umami-rich dipping sauce; sometimes it comes with a fine-grain sea salt flavored with dried shrimp, or matchajio, sea salt mixed with powdered matcha tea. With every batch I've sampled, I've wondered how the cooks achieve that incomparable contrast between the snappy, juicy ingredients and their crackly, ethereal exterior.
Eventually, I turned to the chef Tadashi Ono, with whom I have collaborated on several cookbooks, for the answer. Ono has been preparing tempura for more than two decades, and he agreed to share his method for achieving near-perfect results. The key, he told me, is in the preparation of the batter; get it right, and you'll end up with a delectable crust that doesn't mask or overwhelm the flavors and textures of the fresh foods it envelops. Since tempura is a fast-cooking method, these ingredients should be prepared beforehand, so they're ready to fry as soon as the batter is mixed. For four servings, Ono cuts one pound of raw vegetables into bite-size pieces, and four large shrimp, peeled and cut so that they stay straight and long when frying. Pat the ingredients dry, and allow them to come to room temperature before frying.