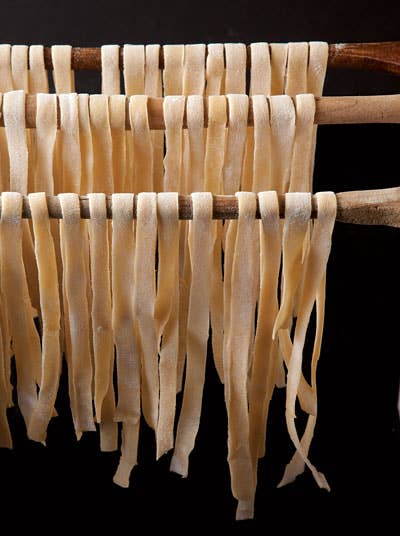 1. Whisk together 2 cups flour and 1 tsp. kosher salt in a bowl. Form a well; add 3 beaten eggs. Whisk to make a dough; knead on a floured surface until smooth, 8-10 minutes. Form into a ball; wrap in plastic wrap; chill 30 minutes. Cut dough into quarters. Working with 1 quarter at a time, begin rolling dough.
2. Continue rolling dough in several directions (you may need to add more flour to the surface), picking it up and stretching it occasionally, until it reaches a 3⁄16˝ thickness.
3. Gently fold up dough, sprinkling flour onto dough as you go to keep dough from sticking to itself.
4. Cut folded-up dough crosswise into 1⁄2˝-wide noodles. Repeat with remaining dough pieces. To cook, boil noodles in salted water until al dente, 3-4 minutes.