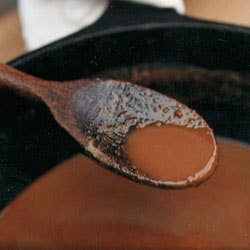 1. When making a roux—one of the basics of Acadian cooking—start with a heavy, well-seasoned, black cast-iron pan (flimsy aluminum just won't do). Pour the desired amount of vegetable—not olive—oil into the unheated pan.
2. Stir an equal amount of flour into the still-cold pan. (No matter what dish you are making, the ratio for a roux is always the same: equal parts of oil and flour.) Turn the heat on very low. The idea is to cook the roux as slowly as possible so that while it darkens, it doesn't burn.
3. Now comes the hard part—having enough patience to stir the roux constantly, until it reaches just the right color. Acadian food expert Marcelle Bienvenu, who shared this technique with us, once asked her father how long it took to cook a roux. "The time it takes to drink two beers," he answered.
4. The roux is ready when it achieves the perfect color and consistency: not too thick, and the color of a shelled pecan; though some cooks may prefer it even darker.