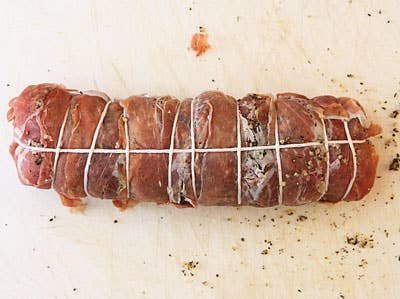 Techniques
Preparing Roast Pork Loin (Arista Di Maiale)
1. Start by placing a 4-lb. pork loin perpendicular to you on a work surface. Using a long knife, start cutting into the meat along its long edge, keeping knife roughly 1⁄2" above the work surface. Continue slicing inward so that the meat unrolls and splays open.
2. Set pork to the side and arrange ten 16"-long pieces of kitchen twine perpendicular to you, each one spaced 1⁄2" from the next; lay one 36"-long piece of twine across the shorter lengths. Lay 6 slices of prosciutto side by side atop and parallel to the short lengths of twine. Season both sides of pork loin with salt and pepper and rub both sides with herb mixture.
3. Roll pork into a cylinder and place it on top of prosciutto slices.
4. Lay 6 more prosciutto slices over pork, tucking edges of bottom slices under top ones. Bring ends of long piece of twine up over ends of pork loin, pull twine taut, and tie ends together. Bring ends of each short piece of twine together, pull taut, and tie together. Trim excess twine.