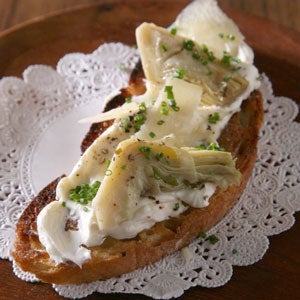 With their subtle flavor and toothy texture, artichokes lend themselves to all sorts of fast, simple preparations. Here are six of our favorites.
1. Whether cooked over coals or under a broiler, halved grilled baby artichokes have a delicate yet concentrated flavor and a crisp exterior; we like to anoint them with olive oil and add a squeeze of lemon and a pinch of crunchy salt while they're still hot.
2. A refreshing side dish, a raw artichoke salad unites the pleasantly bitter flavor of thinly sliced raw baby artichoke hearts with the clean taste of torn mint leaves and the nuttiness of shaved parmesan.
3. One of our favorite ways to use tangy marinated artichokes is for crostini; just spread some creamy mascarpone or ricotta cheese on a piece of toasted country bread that's been rubbed with a bruised garlic clove, then toss the artichoke hearts on top and garnish with snipped chives.
4. A staple of Southern garden club and church luncheons, the tea sandwich takes on a more satisfying dimension with the addition of canned artichokes; simply cut the crusts off sliced dark bread and slather it with a homemade spread of canned artichokes pulsed in a food processor with some mayonnaise.
5. We always try to keep a jar of home-marinated artichokes on hand for pasta dishes or omelettes. We also love to make our own with frozen artichoke hearts tossed in olive oil and a generous pinch each of dried thyme, oregano, and crushed red chile flakes.
6. Whole steamed artichokes are an everyday delicacy that requires nothing more than steaming the whole vegetable and carrying it to the table with your dipping sauce of choice.