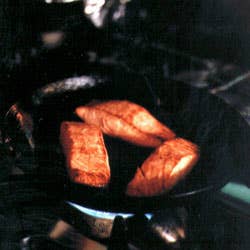 We learned this easy way to smoke salmon from chef Fergus Moore while researching a story in Ireland. His method:
1. Line a wok with foil, add 2 quarts of soaked wood chips, and cover tightly with foil. Heat the wok over high heat for 10 minutes. Brush salmon with olive oil, add salt and pepper; place on an oil-brushed wire rack. Remove the top layer of foil and place the rack over the wood chips.
2. Cover the wok tightly and leave on heat for 10 minutes; remove and leave covered off the heat for 20 minutes.
3. Quickly sear salmon in a hot skillet.