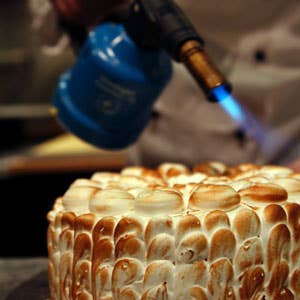 1. First, cream filling is piped onto the first layer.
2. Next, the second layer is added, doused with rum, and topped with filling.
3. Once the top cake layer has been added, the meringue frosting is applied.
4. On top of that goes a layer of decorative meringue flourishes on the sides and top.
5. Finally, the meringue is lightly flame-toasted.
6. Then topped with candied violets and chopped pistachios.