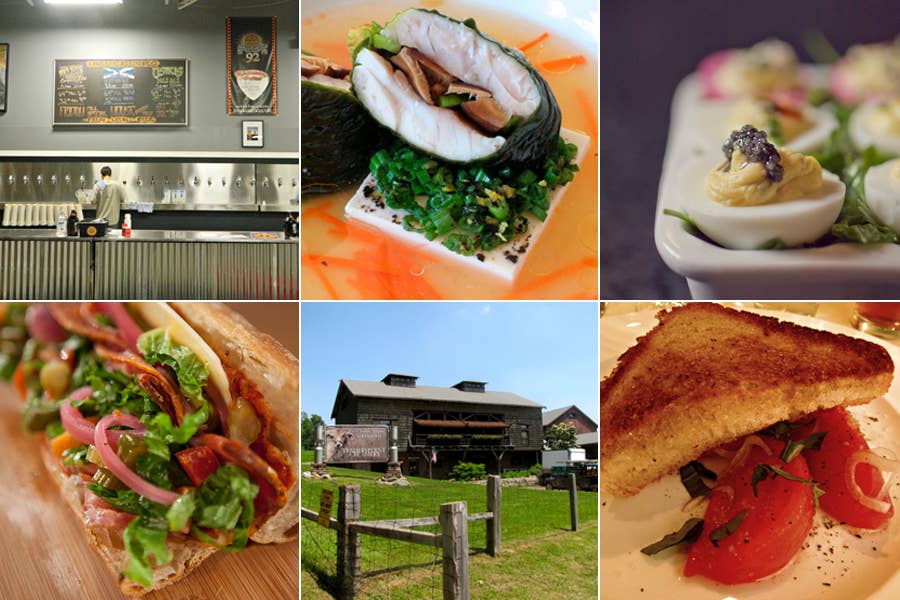 Travel
7 Things You Can Only Get in Indianapolis
Innovative chefs, a thriving craft beer scene, and milkshakes to die for—these days, Indianapolis has a lot to offer
For some reason, sports in Indianapolis get all the attention. But instead of focusing on the Indy 500 or the Colts, we should start paying attention to the Midwestern capital city's food scene. There's a lot happening here: Multiple chefs—including Greg Hardesty of Recess, Neal Brown of The Libertine Liquor Bar, and Regina Mehallick of R Bistro—were semi-finalists for the 2013 James Beard Awards; there's a beer scene that rivals any other city in the country; and innovative chefs are working with ingredients sourced from abundant surrounding farms. But I shouldn't dismiss sports as entirely irrelevant to having a good time in Indianapolis—the last time I visited I explored the city on two wheels, following its recently added bike paths, and discovered a side benefit to biking: It helped me work up a hearty appetite for all of the delicious food that Indianapolis has to offer.
Local Beer from Sun King Brewery and Bier Brewery
On the first day of a visit to Indianapolis last summer, I tried 23 different locally made beers. While that may sound excessive, I barely even scratched the surface of the city's beer offerings. Indy loves beer; you'll find a wide variety of local brews at brewery tasting rooms or on tap at restaurants and bars. Sun King Brewery is the king of the Indiana brewing scene and also distributes around the state. To experience the full line-up of its beers, sidle up to the tasting room bar and sample brews like the blood orange-tinged Osiris Pale Ale or Grapefruit Jungle, a citrusy American IPA that uses three types of hops. The tasting room at Bier Brewery rotates draft beer offerings, so you may find the hop-heavy Chinookalicious IPA or an easy-drinking Belgian amber, plus the ongoing experiment Fruit Cup Surprise, which adds fruit—on my visit, sour cherries—to a Belgian wit base.
Bier Brewery
5133 E 65th Street
Indianapolis, IN 46220
Tel: 317/253-2437
Beer Truffles from Best Chocolate in Town
For a TSA-friendly way to take home the flavor of Indy's brewing scene, head to Best Chocolate in Town, a tiny shop on Massachusetts Avenue that makes creatively flavored truffles. Its chocolate offerings include the Sun King Wee Mac truffle, made with the brewery's Scottish-style beer and a dark chocolate ganache.
A Locally Sourced Prix-Fixe Meal at Recess
There's one problem with the regional and locally sourced menus, which change daily, at Greg Hardesty's Recess—you only have only one chance to try each dish. Hardesty, a semi-finalist for Best Chef Great Lakes in this year's James Beard Awards, offers a different prix fixe four-course menu each day. The menus are attuned to the seasons and feature dishes such as smoked mozzarella grilled cheese served atop a tomato, basil, and shallot salad. As its name suggests, the restaurant has a classroom feel, with brightly colored chairs and children's footprints on the floor.
Recess
4907 N College Avenue
Indianapolis, IN 46205
Tel: 317/925-7529
The Batali Sandwich from Goose the Market
Take a lunch break by popping into Goose the Market, a specialty food and wine shop that also happens to make excellent sandwiches. The Batali sandwich is popular among city residents for good reason: The layers of spicy coppa, soppressata, capocolla, and provolone are complemented by sweet and spicy condiments, including tomato preserves, hot giardiniera, and marinated red onion. You can stock up on locally made products, including meats from Smoking Goose Meatery, which Goose owner Chris Eley launched three years after starting the shop. The black truffle bologna gives the childhood classic an earthy flavor, while the smoked lamb bacon puts a gamey spin on the breakfast meat.
Goose the Market
2503 N Delaware Street
Indianapolis, IN 46205
Tel: 317/924-4944
Gin & Tonics at Bluebeard
While you may not necessarily equate gin and tonics with Mediterranean food, the trio of house G & T's on the menu at Bluebeard pairs well with dishes like grilled octopus with tomato and olive confit. A few standout cocktails are the House Gin & Tonic, made with Blue Coat American dry gin and lime for a sweet-tart flavor; the citrusy Hopped Gin & Tonic, made with Small's gin and Bittermens' hopped grapefruit bitters; and the vegetal Old Tom and Tonic, made with Hayman's Old Tom gin and Bittermens' celery shrub. The refreshing tonic in these cocktails is made especially for Bluebeard by Wilks & Wilson, an Indianapolis-based elixir producer.
Bluebeard
653 Virginia Avenue
Indianapolis, IN 46203
Tel: 317/686-1580
As owner of The Libertine Liquor Bar and Pizzology Pizzeria and Pub, and co-founder of Dig IN, a summer festival that celebrates Indiana food and agriculture with tastings and educational panels in White River State Park, Neal Brown is a leader of the Indianapolis food scene. At The Libertine, the long narrow bar manages to feel both sleek and rustic: Golden orbs of light hang over each table, while white tree branches adorned with lanterns break through the back wall. Order a Screw & Bolt cocktail, made with gin, orange blossom water, and tonka, then try Brown's iconic dishes, such as hamachi carpaccio dressed with wasabi tobiko, horseradish, pea tendrils, and sriracha oil, or beet-pickled deviled eggs topped with whitefish and caviar. At Pizzology, you'll find classics as well as new creations such as pizza topped with housemade fennel sausage, porchetta, fresh mozzarella, and wood-roasted Brussels sprouts.
Pizzology
13190 Hazel Dell Parkway
Carmel, IN 46033
Tel: 317/844-2550
Milkshakes at The Loft at Trader's Point Creamery
Located right outside Indy in Zionsville is Trader's Point Creamery, an organic dairy farm with 150 acres of land for Brown Swiss cows roam. Those grass-fed cows provide milk for the yogurts and ice cream served in The Loft restaurant. Farm tours highlight the milking parlor, grazing pastures, and a store that sells milk and yogurt in glass bottles. But the main attraction is the Dairy Bar, which sells vanilla, chocolate, coffee, and mango ice cream, among other flavors, and serves rich, thick milkshakes.