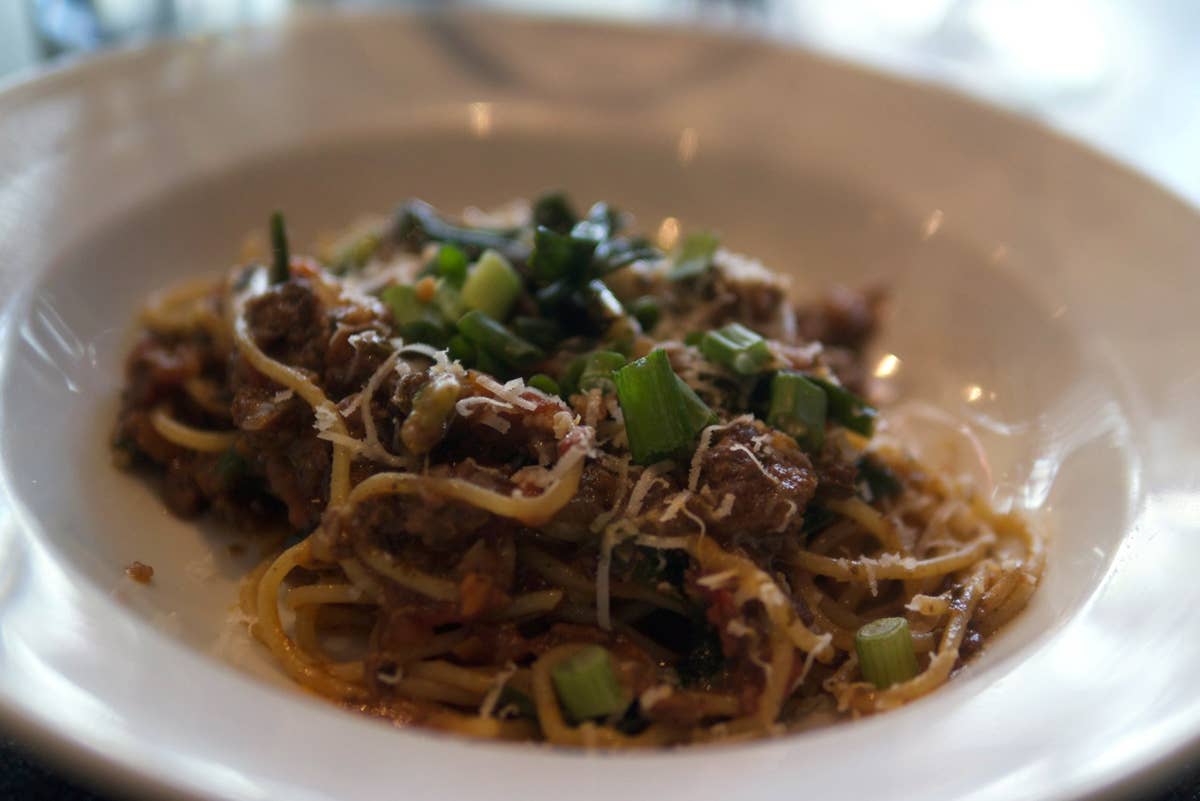 Travel
The Guide: 8 Great Things to Eat (and Drink) in Jackson Hole
Where and what to eat in Jackson Hole, from upscale Italian to offbeat bar snacks
The Million Dollar Cowboy Bar, the most famous spot to get a drink in Jackson Hole, Wyoming, has a name that's only a little tongue-in-cheek. For decades, this remote mountain valley has been overrun by flush outdoorsmen, drawn by the astonishing beauty of the craggy high Tetons, by the ice climbing and extreme skiing in winter, and the fly-fishing, elk hunting, and whitewater rafting in summer. The rugged gourmands who've built extravagant log cabins up in the hills outside Jackson (a lot of hedge fund guys in cowboy hats) don't spend much time at the Cowboy Bar anymore—it's mostly full of tourists these days—but ski bum chow and a frosty Bud doesn't quite cut it, either. But as I discovered on a recent late season visit full of eating, drinking, and powder skiing, there are plenty of ambitious saloons and taverns to meet anyone's demands. Here's what to eat (and drink), and where to find it.
1. Huevos Rancheros at Nora's Fish Creek Inn:
The extra gooey huevos rancheros, copiously drenched in melted cheese and housemade green chile salsa, helped Nora's earn a James Beard American Classic Award in 2012. The log-cabin greasy spoon, a breakfast institution for the last 30 years, is also known for its simply griddled local trout served with eggs however you like them, and great buttery biscuits drenched in a super-savory sausage gravy. Grab a stool at the counter just past the cigar-store Indian, and Nora's kids Trace and Kathryn—now running the place day-to-day—will keep your cup of Joe always full to the brim.
2. Fresh Pasta with Elk Ragu at Il Villaggio Osteria:
Head chef Paul O'Connor adds local game to the excellent handmade pizzas and pastas at this cosmopolitan osteria, modeled on Mario Batali's Lupa back in New York. Pasture-raised elk, so abundant in these parts, is ground up and cooked down into a heady ragu, a sweet-and-savory stew that comes slicked onto delicate, fresh pappardelle. Co-owner Gavin Fine, a sort of mountain-town Danny Meyer, also runs a bistro, wine bar, brewery, and barbecue joint nearby, but locals insist that his slope-side Italian is the best of the bunch.
3. Steak Tartare Pizza at Snake River Grill:
That an offbeat bar snack is among the most beloved items on the menu at Snake River Grill—and has been for years—tells you a little something about this fine dining landmark. Though the restaurant has long been considered the best spot in town for ambitious cooking, neither the food nor the space has any pretension at all. Chef Jeff Drew, a three-time James Beard nominee, serves gutsy, restorative fare in an upscale-rustic setting, with stone hearths and log cabin walls. His steak tartare pizza—showered in top-shelf raw sirloin cut with red onion, capers, and garlic aioli—is a triumph of contrasting textures and temperatures, and is best consumed at the bar with a frosty local brew.
4. Anything fried at Handle Bar:
The fryolated bar snacks served at this slope-side newcomer—star chef Michael Mina's first mountain outpost—aren't your typical apres-ski frozen junk. Instead, to accompany the impressive selection of American whiskeys (and the occasional barrel-aged cocktail), you'll find excellent, greaseless happy hour vittles made with top-notch ingredients. Pass around mini lobster corn dogs (filled with sweet crustacean sausage), tempura-fried maitake mushrooms, crisp-battered pickles, and pillowy sweet potato tots.
Handle Bar
7680 Granite Loop Road
Teton Village, WY
307/732-5059
5. Marley Nachos at Spur:
If you're feeling more grunge than gourmet after a long day out communing with nature, Spur is the place for your junk food fix. This new mountainside hangout replaced a beloved destination, but kept the old spot's biggest draw: huge platters of nachos. The expertly constructed mountain of chips, cheese, pico de gallo, and beans can feed a big hungry crew. Order them "dirty" with pulled pork, or "Marley" style with hacked hunks of jerk chicken.
Spur
3385 Cody Lane
Teton Village, WY
307/734-7111
6. Wagyu Tomahawk at Westbank Grill:
The meat-centric signature restaurant at the plush Four Seasons Hotel serves all sorts of great local game, including housemade buffalo jerky and peppery elk sausage, but the well-aged beef here is the real draw. The big-ticket Tomahawk steak, cooked on an 1800° infrared grill, is a meaty monster serving two diners at least. Sliced off its yard-long bone, it's remarkably tender and gorgeously stippled with fat. Order it with fancy-pants sides like truffled potatoes and Brussels sprouts with dates and bacon.
7. Cast-Iron S'more at Trio:
Nothing quite makes you feel like you're out in the mountains like an old fashioned, messy s'more, with its campfire-blistered marshmallow and melted chocolate oozing all over your hands. Trio, a newish American bistro run by two collaborating chefs (there used to be three, hence the restaurant's name), serves a grown-up version you won't need to build a fire to enjoy. This fork-and-knife beauty, a double chocolate brownie (with melted chips folded in) topped with a fat marshmallow, emerges thick as a layer cake from the wood-burning stove.
Trio
45 South Glenwood Drive
Jackson, WY
307/734-8038
8. Jackson Factor at the Rose:
Not many one-horse mountain towns have a world-class cocktail bar. In 2012 Jackson Hole got its first, when star barkeep David Kaplan, of New York's esteemed Death & Co., opened the Rose here with local partners. Never mind the chandeliers and plush tufted couches, Kaplan—who was raised in these parts—serves his top-shelf tipples to rowdy locals in flannel and fleece. The refreshing but potent Jackson Factor, developed just for the bar, packs a smoky punch, with its pineapple juice, mezcal and Nicaraguan rum served in a tall glass on crushed ice.
The Rose
50 W Broadway
Jackson, WY
307/733-1500
Jay Cheshes, a food and travel writer based in New York, has covered North African food in Paris and market food in Jerusalem for SAVEUR. A former restaurant critic for_Gourmet and_Time Out New York_, he also contributes to_Travel & Leisure, Hemispheres_, and_The New York Times_._