A Dozen Things to Do in Boston
These days Boston is more than just clam chowder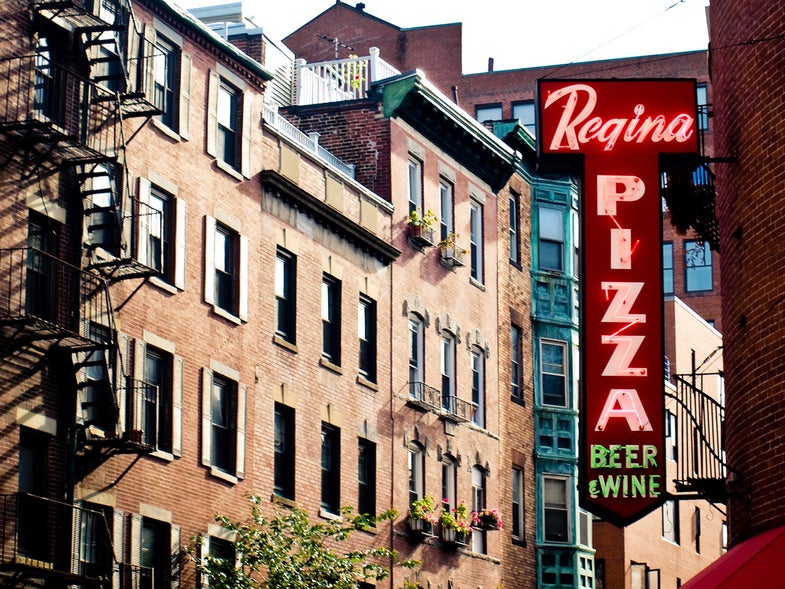 Boston's classic New England cuisine comes straight from our perch on the Atlantic: Lobster rolls in buttery toasted buns; creamy clam chowder studded with salt pork and potatoes; cod, haddock, and every sort of shellfish, battered and fried up crisp with lemon wedges and homey tartar sauce. If you come here for the clam chowder you won't be disappointed, but dig a little deeper and you'll be pleasantly surprised at what else our busy port city is serving up. Southern transplants now have us craving shrimp and grits, while Chinese immigrants turn out juicy, handmade dumplings, and go-getter chefs transform humble ingredients into indulgent charcuterie boards. Just in the vicinity of Fenway alone—that beer-soaked, storied home of the Red Sox—you can wash down spicy potato-chorizo tacos with icy micheladas, or eat your fill of house smoked BBQ made from Berkshire pork. (That is of course, if the wafting scent of Fenway Franks don't get you first.) Here's a sampling of a dozen of my Boston favorites:
1. Grab Cocktails and Small Plates at Toro
This cozy, Barcelona-style tapas restaurant is always stuffed to the gills at dinner, but if you show up early you can sneak a seat at the bar or just sip one of their well-crafted cocktails while you wait for a table with everyone else (they don't take reservations for dinner). Chef Jamie Bissonnette does some beautiful things with traditional small plates, but the man is no slave to convention; dishes such as uni bocadillos with miso butter and pickled mustard seeds, and sweetbreads with peanuts and fermented black beans, are nestled on the menu next to the more expected Marcona almonds and tortilla Espanola. If you decide stop by for lunch, don't miss the juicy Toro burger, topped with their creamy special sauce and pickled onion, it's my favorite burger in Boston.
Toro
1704 Washington Street
Boston, MA
617/536-4300
2. Visit Highland Kitchen for Dinner or Brunch
This is my go-to spot for tasty, reasonably priced food and well-made cocktails. The place is always jamming, brimming with locals crowded around the jukebox or settled into a comfy booth. You'll find young families enjoying an early dinner, and 20 somethings sipping Mai Tai dragons at the bar till they close. I can't start a meal without their crispy buffalo-fried Brussels sprouts, or mussels in lobster-curry broth. On chilly New England nights, warm up with fiery goat stew or their beer-battered fish and chips. Southern inspired brunch is also a winner, with shrimp and grits and fluffy pancakes, but come early or be prepared to get in line. We've spent hazy Sunday mornings standing in cold drizzle to catch the first seating, but it's always worth the wait.
Highland Kitchen
150 Highland Avenue
Somerville, MA
617/625-1131
3. Explore the North End
Boston's "Little Italy" boasts charming pastry shops, nonnas gossiping on street-side benches, and Italian butchers with legs of prosciutto and fresh mozzarella hanging in the window. Wandering the narrow, cobblestone streets is a lovely way to spend a sunny afternoon, but among the plethora of red-sauce joints there are many a tourist trap. The original Pizzeria Regina (forget about the inferior suburban locations), however, is one destination spot that stands up to the hype: This Boston institution serves up blistered, brick oven pies with just-sweet-enough sauce, and crust with a crisp, chewy bite. You can't leave the North End without dessert, and while locals will argue whether Modern or Mike's makes the best cannolli, my vote goes to Maria's, a small, family-run shop that pipes the sweet ricotta filling to order, guaranteeing a crispy shell and plenty of powdered sugar on your chin.
Pizzeria Regina
11 1/2 Thacher Street
Boston, MA
617/227-0765
Maria's Pastry Shop
46 Cross Street
Boston, MA
617/523-1196
Flour Bakery Credit: Catherine Smart
4. Share a Pastry with a Friend at Flour Bakeries
When I first moved to Boston, Flour bakery had only one location. Owner Joanne Chang recently announced her plans to open a fourth. The sandwiches, with options such as roasted chicken with avocado and jicama, or roasted lamb with tomato chutney and goat cheese, are some of my favorites in town. But the real stars here are Chang's re-imaginings of sweet childhood favorites like flaky, jam filled "Pop-Tarts" and homemade "Oreos" with sweet vanilla buttercream sandwiched between crumbly chocolate shortbread cookies. Go for lunch, split a sandwich with a friend, order a few pastries to share, and wash it all down with a house-made raspberry seltzer.
Flour Bakery
Multiple locations
5. Catch a Game at Fenway
When you come to see the Red Sox you could certainly make a meal of sausages and peanuts, but if you get to the park early head over to Ken Oringer's La Verdad for flavorful tacos and zippy margaritas. Or if you're craving something heavier, check out Sweet Cheeks, the new BBQ joint by Tiffani Faison featuring plates of excellent BBQ and a boozy variation of sweet tea to wash down your collards and mac & cheese.
Fenway Park
4 Yawkey Way
Boston, MA
617/226-6666
La Verdad
1 Landsdowne Street
Boston, MA
617/421-9595
Sweet Cheeks
1381 Boylston Street
Boston, MA
617/266-1300
6. Shop Newbury Street
Newbury street is a must-see for visitors—it's wonderful place to shop, people watch, and enjoy classic Boston architecture. The food however, is mostly "meh," so instead, walk just a few blocks over to Towne, the teetering-on-over-the-top brainchild of Lydia Shire and Jasper White, two of Boston's most iconic chefs. These two top dogs held nothing back at Towne, where you can enjoy everything from classic New-England clam chowder and Fried Ipswich-clam topped lobster rolls to grilled branzino and juicy rib chops, in a festive, sprawling space. Start in the lively bar with a cold martini and lobster popovers while you look over the extensive menu.
_Towne Stove and Spirits
900 Boylston Street
Boston, MA
617/247-0400
_
Town Stove and Spirits Credit: Courtesy Towne Stove and Spirits
7. Make Your Own Bloody Mary at East Coast Grill
The best time to visit this place is brunch: They boast an enormous make-your-own Bloody Mary bar and a varied menu boasting big, tropical flavors. Fixings for tuna tacos arrive ready to be wrapped up in flour tortilla with slices of just seared fish and crispy lime-pickled jicama, creamy avocado and fiery orange-chipotle glaze. And don't miss their smoked pork-stuffed banana with Inner Beauty hot sauce—I like to order their ghost chili specialty sauce on the side and apply with eye-dropper precision for just the right amount of heat.
East Coast Grill
1271 Cambridge Street
Cambridge, MA
617/491-6568
8. Hit up the Bar at Trina's Starlite Lounge
What is not to love about this dark, hip, hangout? A raucous bar, and chicken and buttermilk waffles with hot pepper syrup? Mac and cheese with Ritz cracker topping? Spicy Starlite wings with blue cheese dressing and sweet cornbread slathered in butter? I love everything about this place, from the low price point on the food, to the spicy mango margarita's, and the crowd that saddles up at the bar for $11 buckets of High-Life ponies.
Trina's Starlite Lounge
3 Beacon Street
Somerville, MA
617/576-0006
9. Shop for Culinary Delights at Formaggio Kitchen
This specialty food shop is a cheese lover's fantasy come true—Each piece of cheese is painstakingly scraped and re-wrapped each morning. I watched this daily ritual as a cook here—my first job out of culinary school—so I can vouch for it. Owner Ihsan Gurdal built the first cheese cave in the United States so he would have a place to ripen the wheels he finds from small producers all over Europe and the U.S. Despite the name, it's not just cheese; Formaggio staff members have traveled the world to source an incredible inventory of condiments, spices, pasta, olive oils, wine…the list goes on, many from small single producers that you can't find anywhere else in the U.S.. They also boast an excellent selection of cured meats, and an in-house charcuterie program. Go to browse and sample some cheese—you'll definitely find some edible treasure to take home with you.
Formaggio Kitchen
244 Huron Avenue
Cambridge, MA
617/354-4750
10. Where to Stay: Hotel Commonwealth
I always direct out-of-towners to this hotel because it has three fantastic options for food and drink under one roof. First, Eastern Standard Kitchen, where as a culinary student I would occasionally treat myself to French bistro classics like steak-frites and crisp shoe-string potatoes for dunking in garlic aioli. Next door is Island Creek Oyster Bar, where you can sample different bivalve varieties from New England and much further afield. (I also recommend stopping by after taking in a game at Fenway to indulge in buttermilk biscuits dripping with honey and oyster sliders, a delicious way to soak up all those $7.00 bud lights you had at Fenway Park.) For a nightcap, walk downstairs to The Hawthorne, a comfortable bar that feels like a well-appointed living room and serves some of the best drinks in town.
Hotel Commonwealth Credit: Catherine Smart
Hotel Commonwealth
500 Commonwealth Avenue
Boston, MA
617/933-5000
Eastern Standard Kitchen
528 Commonwealth Avenue
Boston, MA
617/532-9100
Island Creek Oyster Bar
500 Commonwealth Avenue
Boston, MA
617/532-5300
The Hawthorne
500A Commonwealth Avenue
Boston, MA
617/532-9150
11. Feast at the Peach Farm in China Town
You can't go wrong with the seafood at Peach Farm, which plucks live fish and crustaceans from their tanks for a super-fresh meal. Family style banquet tables and very reasonable prices make this a great venue for a group. Round out the feast with succulent roast duck, pork dumplings, and garlickly peapod stems, and walk off your meal exploring Chinatown.
Peach Farm
4 Tyler Street
Boston, MA
617/482-3332
12. Find Cheap Eats at Super 88 Market food court
The Super 88 food court sustained my husband and me through grad school, when we were too tired to think let alone cook, and too broke to eat almost anywhere, we'd stumble into the bright, fluorescent-lit food court and wander off to pursue our respective cravings before sitting down to eat together. Now I'll happily drive over the Charles river for steaming bowls of pho and overstuffed pork bahn mi from Pho Viet, washed down with smoothies from Lollicup, the bubble-tea stand next door.
Lollicup
1095 Commonwealth Ave, 211
Boston, MA
617/782-2622
Pho Viet
1095 Commonwealth Ave, 211
Boston, MA
617/562-8828
_Catherine Smart is a Boston-based personal chef/culinary instructor and a regular contributor to the Boston Globe. _