Dinner With the Kid at Chebeague Island Inn
While the grown-ups enjoy their tasting menu, this restaurant serves the kids a very palatable counterpart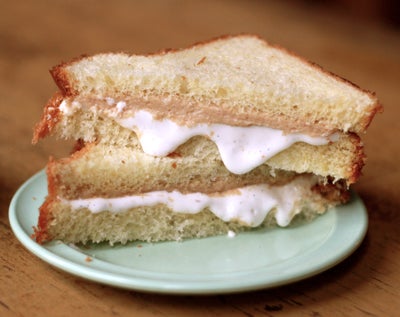 After a choppy, chilly morning pulling traps on a friend's lobster boat in southern Maine, it was a relief to arrive at the warm and cozy Chebeague Island Inn, a small hotel with a very good restaurant on Casco Bay's eponymous island. The nearly century-old inn has a checkered past and a resident ghost; two years ago the Prentice family, from neighboring Yarmouth, took over the space, and now the 21 guest rooms soothe and comfort. The fire crackles, the board games and nautical-themed books beckon, and the cocktails cure all. But the food and service are what's most wonderful about this place.
Particularly fun is the tasting menu. For my little family, it's not a stretch to say that our dinner there was a watershed meal. Two years ago my kid, Harper, who is now twelve, blew up after a few bites of lobster in nearby Portland. This newly discovered seafood allergy was a tragedy; a former Mainer, his favorite food had always been clam chowder. He had also always loved the glamour of dining out, but after his diagnosis, Harper developed a distrust of restaurants. He slowly started eating out with us again in pizza parlors, burger shops, vegetarian joints — but not in full-menu, fancy places.
Then we came to Chebeague, and chef Justin Rowe — a veteran of some of Portland's best restaurants, as well as of Kennebunkport's White Barn Inn restaurant — cooked a meal designed specifically for my kid. While we grown-ups had starters of butter-poached day boat scallops, the kid got a dish that prompted him to blurt, "I'm going to have to go back to the kitchen and hug the chef!" It was an artisanal fluffer-nutter sandwich: fresh-ground peanut butter with the just-whipped fluff on white bread so soft and light that the kid deemed it "immaculate," sided by paper-thin chips.
With our tony little lobster BLTs, he got housemade chicken fingers with a terrific hot mustard-honey dipping sauce; with our duck two ways (perfectly roasted breast and a decadent baked foie gras terrine), he got mini bacon-cheddar sliders with shoestring fries. The adults' palate cleanser was a refreshing mix of watermelon-basil water and champagne poured over basil flowers; Harper's was a strawberry-balsamic milkshake that he declared "thick and creamy." There was a cheese course: rich Great Hill blue tartlets with cherry compote and crushed macadamias for us; deep-fried cheese curds for him. And for the grand finale we all enjoyed s'mores: nutmeg-graham cracker cookies wedged full of melted vanilla bean marshmallows and chocolate. Harper's overall opinion of his meal? "This has been so fun. I love this place!"
Chebeague Island Inn
61 South Road
Chebeague Island, ME 04017
207/846-5155