Eating in Albuquerque: Central Avenue and Downtown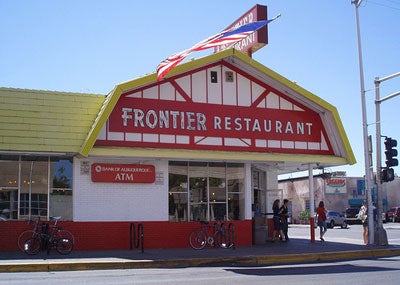 In the sprawling, auto-oriented cities of the Southwest, neighborhoods are rather more nebulous than in, say, New York or Chicago, which are built on clearly established enclaves. So when a cluster of indie eateries manages to form amid the housing subdivisions and roadside chains, locals are only too happy to frequent them. This is the second in a short series of posts highlighting the restaurant rows of the Southwest, and today, the spotlight is on Albuquerque.
Low-lying Albuquerque doesn't really have any neighborhoods that are dining destinations—its gems are randomly scattered far and wide. And the decline of Route 66 took the city's relatively tiny downtown with it for some time. But in the past 15 years or so, radiating outward from collegiate-chic Nob Hill amid long-standing institutions like Frontier restaurant (famed for its fresh tortillas and sweet rolls), nightlife spot El Madrid Lounge, and the weiner shack Dog House Drive-In, an ever-more eclectic assortment of eateries have turned Central Avenue into a hub worthy of the city's sometime-nickname, Albuquirky. The area was pioneered 20 years ago by the acclaimed Artichoke Cafe, serving a diverse menu of crowd pleasers, from the namesake vegetable with three dipping sauces, to veal scallopini and udon in red curry. It's been joined by all kinds of dining finds, including music club Blackbird Buvette, where they cook up a mean burger; the organically inclined Grove Cafe & Market (don't miss the homemade English muffins); and Cecilia's Cafe, which serves a superb carne adovada.
Ruth Tobias is a Denver-based freelance food writer and the author of Denveater.com.