Eating in Las Vegas: Caught On Tape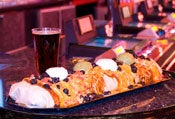 The dining and drinking entries on Las Vegas Weekly's video log (or vlog, in web lingo) are like all your guiltiest Food Network and Travel Channel pleasures rolled into one and set against the backdrop of Sin City. This isn't to say, though, that you won't learn a worthwhile thing or two while watching your hapless correspondents flail away at Lotus of Siam's hottest offering (habanero crispy duck!) or NASCAR Cafe's six-pound burritos; in semiregular segments like Meal in a Minute and Mixology, local luminaries from Simon at Palms Place's Kerry Simon to George Austin Sproule of Downtown Cocktail Room see you smoothly through their recipes.
Ruth Tobias is a Denver-based freelance food writer and the author of Denveater.com.