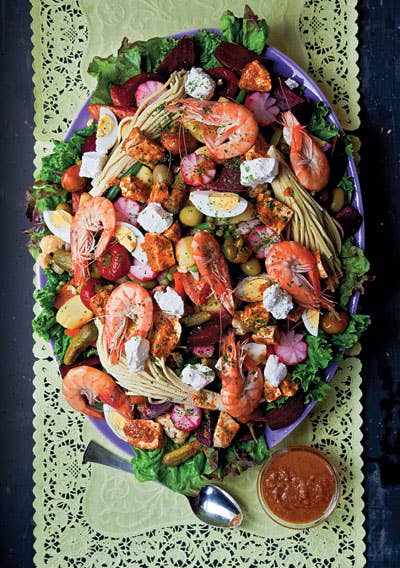 Travel
Saintly Salad: Guatemalan Fiambre
Guatemalan fiambre is a dish to raise the dead
In 1997, when I first visited Guatemala's Lago Atitlan, a crystalline lake surrounded by volcanoes, I arrived on November 1, in time to observe All Saints' Day. The owner of my hotel in the town of Panajachel invited me to her family's celebration.
Typically, my hostess told me, families decorate their relatives' graves with flowers and candles to guide the spirits back home. Food and drink are left for souls famished from wandering in the netherworld. Many people stay by the graves, eating and drinking until morning; others take the party elsewhere.
That's what we did. We arrived at the family's home, the rooms vibrating with laughter in celebration of the lives of the dead. Every square inch of a long table was covered with dishes, and the centerpiece was an enormous composed salad—dozens of ingredients in colorful layers. My first bites contained cabbage, chorizo, heart of palm, and sardine; a tart vinaigrette tied it all together. "Fiambre" a man next to me said.
It turns out that_ fiambre_, which means "served cold," is eaten only in Guatemala, only on All Saints' Day. Though its origins are murky, according to chef Mirciny Moliviatis, an expert on Guatemalan cuisine, as families took dozens of little dishes to the cemetery, over time they got mixed together, resulting in this easier-to-carry creation. Variations include fiambre blanco, white with cabbage; beet-laden fiambre rojo; and vegetarian fiambre verde. Other than that, fiambre can contain anything from baby corn to beef tongue. With 50 or so ingredients, it can take days to prepare.
After eating my fill of fiambre, I slipped into my hostess's kitchen where her mother was directing several women in assembling even more of the dish. "Who knows what the dead want?" she told me. "With fiambre, they can pick their favorite things."