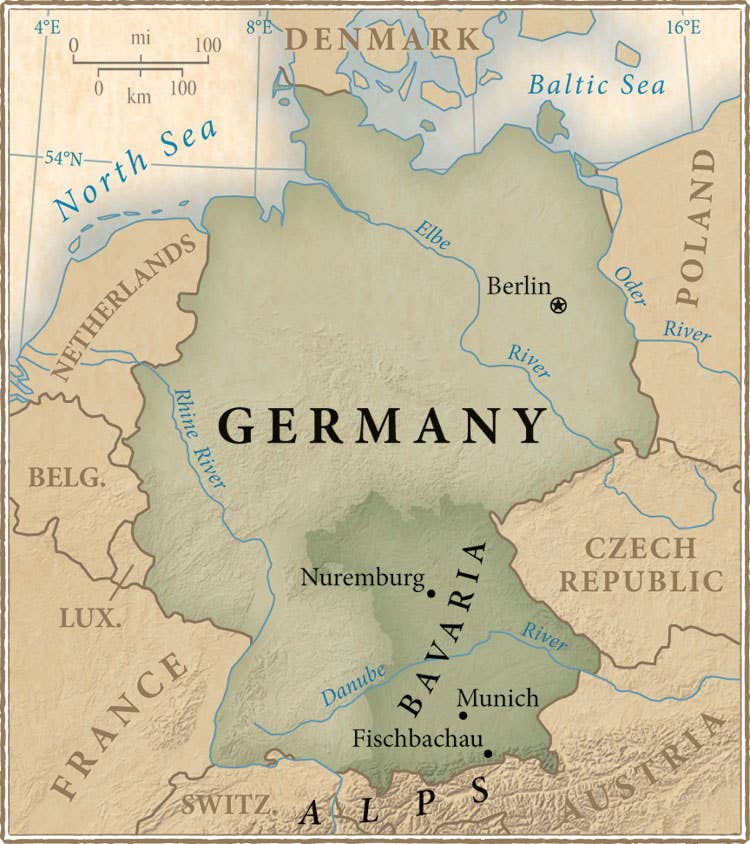 Travel
Travel Guide: Munich and Nuremberg
Dinner for two with drinks and tip: Inexpensive Under $20 Moderate $20-$80 Expensive Over $80
Winterstrasse 15-17 Nuremberg Grossreuth bei Schwinau (49/911-658-480; rottner-hotel.de). Rates: $149 Double. At this comfortable hotel, located on a working farm on the outskirts of Nuremberg, owner and chef Stefan Rottner offers cooking classes to guests and shows food films in a barn-turned-movie theater. Gasthaus Rottner, a convivial pub next door, serves farm-to-table fare such as roast goose.
Kohlstrasse 9, Munich (49/8921-6350; info@hotel-admiral.de). Rates: $160 Double. Located on a quiet side street in downtown Munich, this 32-room, family-run hotel is cozy and old-fashioned in all the best ways, with heavy brass keys for the rooms and a delicious German breakfast of eggs, cold cuts, and assorted cheeses served in the bustling parlor.
Beim Tiergartnertor 3, Nuremberg (49/911/225-474; augustiner-zur-shranke.de). Inexpensive. This little restaurant just inside the walls of Keiser-burg Castle offers an impressive array of beers on tap and food to match: roasted pork shoulder, bacon dumplings, and braised cabbage, all proffered in a warm, old-fashioned dining room.
Rathausplatz 1, Nuremberg (49/911/227-695; die-nuernberger-bratwurst.de). Moderate. At this definitive place for the thin, highly spiced sausages for which Nuremberg is famous, the brats are roasted on a grill in the middle of the dining room, then served piping hot with creamy potato salad and sauerkraut (pictured, right).
"Die Alm" im Mandarin Oriental
Neuturmstrasse 1, Munich (49/89/290-980; mandarinoriental.com/munich). Moderate. Fine dining takes on traditional fare—bread and butter blanketed in fresh chopped chives; veal with parsleyed potatoes and cranberries—are offered in a seasonal pop-up chalet (complete with man-made snow) on the roof of the Mandarin Oriental hotel.
Platzl 9, Munich (49/89/2901-3610; hofbraeuhaus.de). Inexpensive. Owned by the Bavarian government, this cavernous, 420-year-old beer hall has a dedicated following in Munich: hundreds of patrons keep their personal beer steins on premises in a specially designed locker. The menu is solidly old-school, with house-made weisswurst, braised pork knuckles and sauerkraut, and enormous German pretzels.
Tal 7 80331 Munich (49/89/290-1380; weisses-brauhaus.de). Moderate. Two stories of hearty Bavarian fare are on tap in this former brewery. It's a great place to sample Munich's second breakfast, served after breakfast but before lunch, of weisswurst and beer. At night, it morphs into a mini Oktoberfest with beer-friendly food like roasted pork shanks with dumplings and gravy, and of course, bratwurst.
Kirchstrasse 2, Elbach (49/80/28817). Just outside of Nuremberg, this tiny, quintessentially German bakery (pictured, right), operated by the same family for five generations, is packed to the rafters with delicious things to eat. Try the fresh-baked fruit-flecked Stollen or the jelly doughnuts.
Marienplatz Christkindlesmarkt
November 30-December 24, Marienplatz, Munich (muenchen.de). At the foot of St. Mary's Cathedral, hundreds of stalls sell toys and seasonal goodies like kletznbrot (a dense fruit-and-nut loaf), baked apples, and hot spiced wine. Every evening during the Christmas season, carolers sing from the Town Hall balcony above the market.
Nuremberg Christkindlesmarkt
November 30-December 24, Hauptmarkt, Nuremberg (christkindlesmarkt.de). This sprawling market, going strong since the mid-16th century, is one of Germany's oldest. Nearly 200 stalls sell toys, ornaments, fruitcake, and other holiday items, while vendors peddling grilled sausages, rum punch, and gluhwein ensure that no one shops hungry.
Rischart's Cafe Zimtstern
Marienphtz 18 a (089 2317000; rischart.de). Every December, the staff at the Munich bakery Rischart erects a tent out front, where they offer children's baking lessons and seasonal sweets: Christmas cookies, baumkuchen ("tree cake"), made by brushing layers of batter onto a spit.