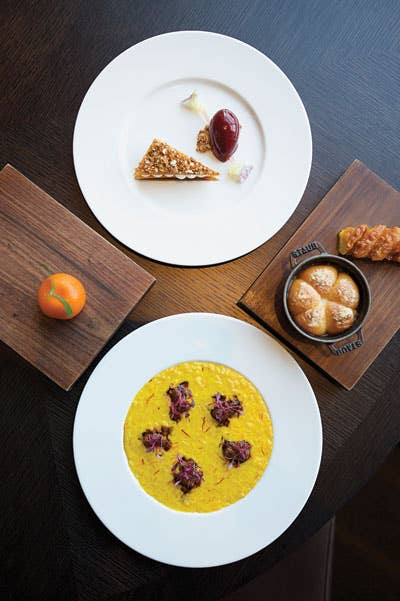 Travel
Restaurant Review: Hooked on Classics at Dinner by Heston Blumenthal
Heston Blumenthal's new restaurant in London is a brilliant throwback.
In 1995, when Heston Blumenthal first opened his now three Michelin—starred restaurant, the Fat Duck, in the village of Bray, just west of London, it was very much a summer stock, let's-put-on-a-show-in-the-barn affair. The bathroom was outside. The old pub's bar still ran straight down the middle of the room. Without a supplier network, Blumenthal sourced ingredients from supermarkets.
In comparison, Dinner by Heston Blumenthal—which opened at the end of January at London's Mandarin Oriental hotel, in glossy Knightsbridge—is a big-ticket Broadway production. There is a shiny, glass-walled cube of an open kitchen and a panoramic view of the verdant fields of Hyde Park. There is wood, and there is leather. The self-taught chef has been coy about just how much his backers have invested in the venture, which draws its inspiration from historical British cookery. The figure is rumored to be a little north of $8 million, much as Chicago is a little north of New Orleans. Just the precise action of the rotisserie, manufactured by a Swiss watchmaker for the roasting of pineapples, cost more than $100,000. There are 130 seats, compared with a mere 45 covers at the Fat Duck, and 45 cooks to feed them.
For Blumenthal, who often has been referred to as the Willy Wonka of British gastronomy on account of his modernist dishes—like crab ice cream and green tea palate cleansers cooked in bubbling liquid nitrogen—this buzzy brasserie represents a step change in his business. By entrusting the kitchen to the 33-year-old Ashley Palmer-Watts, a close collaborator and onetime head chef at the Fat Duck, Blumenthal is making it clear that he knows what's at stake. Dinner is less son of Fat Duck—no chubby duckling, this—than an expression of Blumenthal's notoriously obsessive working method. It presents those who either can't get into or can't afford the original restaurant with a chance to engage with Blumenthal's agenda.
That, for the most part, it succeeds is due to his attention to detail. The one dish that will come to represent the venture is his Meat Fruit, a silky chicken liver parfait dressed up as a mandarin orange. Through his television shows and books, Blumenthal has loudly declared an interest in Britain's culinary heritage, pointing out that, in earlier centuries, the British ruling classes were regarded as proponents of gastronomic adventure and whimsy. Working with food historians, he has dug up antique recipes and is using them as a jumping-off point. And so the menu comes practically footnoted. Each dish is listed with a date. Meat Fruit is "ca. 13th-15th century" and apparently recalls a time when the English gentry liked to dress up one foodstuff to look like another. It's unlikely they ever got their hands on anything this good. It is not simply that the smooth parfait is rich enough to make a cardiologist swoon: It is the perfect execution of the deep orange peel in a light gel with an equally light mandarin tang; a green ruscus leaf (inedible) is inserted just so. The dish sits on a board alongside slices of warm toast. Waiters grin as they deliver it. It is both an outrageous conceit and an encouragement to the appetite. For a while you must simply admire it, before finding the nerve to take its virtue.
Does the fact that the menu reads a little like the bibliography of a PhD thesis add to the experience? Yes, and no. Blumenthal has always liked to play with language, believing that anticipation of a dish is part of its enjoyment. His snail porridge at the Fat Duck was essentially a risotto made with oats, but the infantilizing word porridge was so much more intriguing in such grown-up surroundings. So when another Dinner starter is listed as Rice & Flesh, with references to 1390, it is worth raising a skeptical eyebrow. So it proves: The dish is essentially a saffron risotto, the color of a Van Gogh sunflower, mined with shreds of long-braised oxtail and dressed with dribbles of meaty, acidulated jus. It is an elaborated risotto Milanese, but a bloody good one.
Eventually, and perhaps inevitably, enjoyment of these intellectual games gives way to more visceral pleasures. The food is a joy for what it is, not for what it references. A plate of seared scallops with cucumber ketchup point out not just the newly mown lawn aromatics of cucumber but also the light bitterness of the peel. Indeed, it is that finely balanced use of acidity that gives a spring and lift to all the dishes. An expertly cooked filet of turbot comes with cockles, and both the bitterness of the accompanying chicory and the flash of white wine in the sauce lend a heft and sparkle the dish might otherwise not have.
Dessert brings sweet rhubarb braised in bitter Campari with a brilliant sorbet of the same, or a brown bread ice cream with salted caramel that leaves you wondering where savory ends and sweet begins. But the star is the Tipsy Cake, which, like all great divas, takes awhile to get dressed—so long, in fact, that you have to order it at the beginning of the meal. It is a light, yeasty savarin, drenched in syrup and served alongside hunks of those pineapples from the rotisserie.
In Britain, dinner is a word whose meaning changes depending on which part of the country and—dreaded word—class you belong to. In many places, the midday meal is dinner and the evening meal tea. The restaurant's name speaks of a stab by Blumenthal at utilitarianism. The Fat Duck may be couture; Dinner, with its $45 set lunch menu, is meant to be a little more pret-a-porter. But this is still a serious restaurant in a serious hotel, with a serious price tag and the sort of wine list that will make those on a budget wince. And yet, for all the intense work that has gone into the food, Dinner manages something that is depressingly rare at this level in London: It does not take itself too seriously. Heston Blumenthal has indulged his nerdy fervor for research and refinement, fretted over every detail. And he has still managed to open a restaurant that is playful. That may be Dinner's greatest achievement.
_Dinner by Heston Blumenthal
Mandarin Oriental Hyde Park
66 Knightsbridge, London SW1X 7LA, England
(44/20/7201-3833)
Hours: noon-2:30 p.m.; 6:30-10:30 p.m. daily
Dinner for two, including drinks and service, $360
_