Travel Guide: Classic New Orleans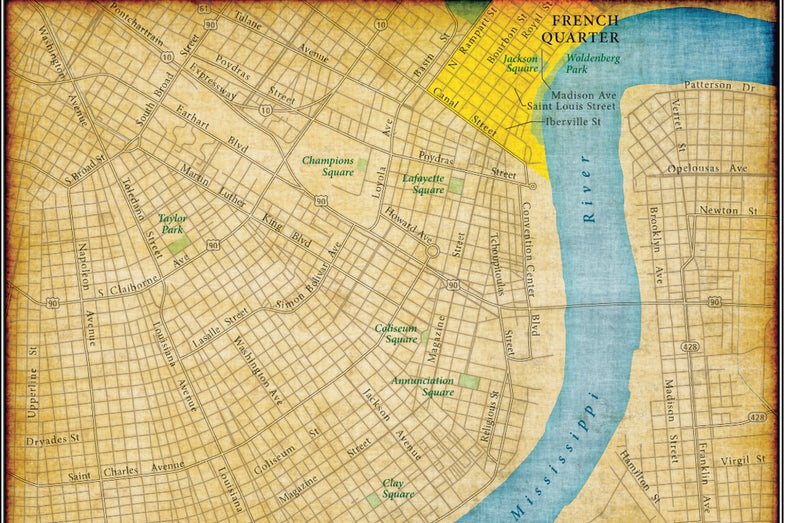 Founded in 1718 by French colonists who saw the promise of commerce in this soft, curving land near the base of the Mississippi River, New Orleans has always been a city of entrepreneurs and idealists, the gutsy and the fanciful. Spain arrived. And Africa. Sicily, the Caribbean, and others. The creative interplay between cultures gave birth to the jazz, Mardi Gras, and incomparable cuisine that make this place extraordinary. Hurricane Katrina dealt a blow in 2005—the current population (around 360,000 in 2011) falls far short of prestorm numbers. Yet, from the historic French Quarter at the city's heart to the tree-shaded boulevards of Uptown to its west, the streets of shotgun houses in the Bywater to the east, the Treme to the north, and beyond, the music remains strong. The pageantry is spectacular. And the classic restaurants—Creole, Cajun, and otherwise—make food that's as delicious and vibrant as ever. Here are some of our favorite legendary places to eat, drink, and stay in New Orleans.
RESTAURANTS
Galatoire's
The lion's share of old-school New Orleans dining rooms is located in the French Quarter, where the zing of paprika-laced shrimp remoulade punctuates the Friday lunch at the centenarian Galatoire's.
209 Bourbon Street
504/525-2021
Antoine's
Antoine's, the originator in 1889 of oysters Rockefeller, spoils patrons with butter-soaked seafood like trout Pontchartrain topped with lump crabmeat.
713 St. Louis Street
504/581-4422
Arnaud's
Between courses of Pernod-spiked escargots en casserole and buttery speckled trout meuniere at Arnaud's, diners may tour the restaurant's Mardi Gras museum, a spectacle of scepters and gowns.
813 Rue Bienville
504/523-5433
Brennan's
Nearby Brennan's is most beloved for its multicourse breakfasts (cocktails encouraged) and flaming bananas Foster.
417 Royal Street
504/525-9711
Tujague's
Rounding out the French Quarter's quintet of classic Creole restaurants, Tujague's is the biggest stickler for tradition, offering only a six-course table d'hote menu at dinnertime, with specialties like brisket in spicy Creole sauce; its standing-room-only bar serves up red beans and rice on Monday nights.
823 Decatur Street
504/525-8676
Dooky Chase and Ye Olde College Inn
Gumbo remains a constant in the city's classic restaurants, high-end and hole-in-the-wall alike. A gumbo excursionist can eat for days without ever tasting the same gumbo twice, from the version made with seafood and chaurice sausage (a Creole chorizo) at Dooky Chase, the restaurant that desegregated fine dining during the Civil Rights era, to the turkey and andouille gumbo at Uptown's beloved Ye Olde College Inn.
2301 Orleans Avenue
504/821-0600
3000 S. Carrollton Avenue
504/866-3683
Mr. B's Bistro
Mr. B's Bistro in the Quarter is famous for its gumbo ya-ya. The dish, whose name is Creole slang for "all talking at once," is chockful of chicken and sausage in a dark long-cooked roux.
201 Royal Street
504/523-2078
Upperline
A few miles uptown at Upperline, the signature is a rich duck and andouille gumbo.
1413 Upperline Street
504/891-9822
Brigtsen's
Farther along, in Riverbend, Frank Brigtsen uses file (cured and ground sassafras leaves), a seasoning and thickener adopted from the Choctaw Indians, in a refined gumbo made with rabbit at Brigtsen's.
723 Dante Street
504/861-7610
Charlie's Seafood
At Charlie's Seafood, Brigtsen's casual spot out west in Harahan, he prepares it homestyle with okra, shrimp, and oysters.
8311 Jefferson Highway
504/737-3700
Commander's Palace
You never know what style of gumbo might be in the pot at Commander's Palace, the Garden District Creole grande dame, which offers a rotating selection of the Creole soup, along with originals like bread pudding souffle.
1403 Washington Avenue
504/899-8221
Bon Ton Cafe
The gumbo is good, but the crawfish bisque is the soup to try at the Cajun restaurant Bon Ton Cafe.
401 Magazine Street
504/524-3386
Felix's Restaurant & Oyster Bar
Fried Gulf oysters are po'boy staples, but the bivalves find their true calling in raw form at the city's classic oyster bars, like the no-frills Felix's Restaurant & Oyster Bar.
739 Iberville Street
504/522-4440
Casamento's and Pascale's Manale
The chatty shuckers consider the gift of gab part of the job at Casamento's and Pascale's Manale, old-line Italian restaurants and oyster bars whose cuisine arrived from Italy in the late 1800s.
4330 Magazine Street
504/895-9761
1838 Napoleon Avenue
504/895-4877
Tommy's Cuisine
Tommy's Cuisine, in the Warehouse Arts District just west of the Quarter, features a full slate of traditional Creole dishes such as oysters Bienville and crabmeat Sardou.
746 Tchoupitoulas Street
504/525-4790
Cafe Du Monde
For 'round-the-clock coffee and dessert, Cafe Du Monde is the city's most popular attraction. The cafe's chicory-darkened roast and hot-from-the-fryer beignets are unparalleled—unless you're a partisan of Morning Call Coffee Stand.
800 Decatur Street
504/525-4544
Morning Call Coffee Stand
The newest location of the 143-year-old local institution brings cafe au lait and those powder-sugar New Orleans-style donuts to City Park, the town's ever-improving expanse of green.
3325 Severn Avenue, Metairie
504/885-4068
NIGHTLIFE
Victorian Lounge Bar
_3811 Saint Charles Avenue (504/899-9308)_The city's storied hotels and restaurants are among the best places for a well-crafted drink. There is no more picturesque spot for enjoying a Sazerac, the city's official cocktail made from rye whiskey, bitters, and liquorice-flavored Herbsaint or absinthe, than the front porch of the Columns Hotel in the Garden District, thanks to its Victorian Lounge Bar.
Swizzle Stick Bar
At the Swizzle Stick Bar in the Loews Hotel, bar chef Lu Brow revives vintage cocktails like the hair-of-the-dog Corpse Reviver #2, a lemon-spiked combination of gin, Lillet, Cointreau, and absinthe.
300 Poydras Street
504/595-3305
French 75 Bar
Another new-wave bartender with old-timey sensibility, Chris Hannah turned the French 75 Bar at Arnaud's into an international destination by perfecting old favorites and concocting updated New Orleans-inspired ones like the Moviegoer, gin blended with orange curaçao, Averna amaro, and lemon.
813 Rue Bienville
504/523-5433
Old Absinthe House
At the Old Absinthe House, you can sample all manner of Big Easy cocktails—brandy milk punch, Ramos gin fizzes, mint juleps—as well as admire the marble fountains that bartenders once used to drip water over sugar cubes into absinthe.
240 Bourbon Street
504/523-3181
Blue Nile and The Spotted Cat
Frenchmen Street in the Faubourg Marigny east of the Quarter is the place to go for a nightcap and its natural New Orleans pairing: music. At Blue Nile, you might catch country bluesman Washboard Chaz or the raucous Big Sam's Funky Nation, while The Spotted Cat features all kinds of jazz.
532 Frenchmen Street 504/948-2583
623 Frenchmen Street
504/258-3135
Vaughan's
In the Bywater, the iconic trumpeter and singer Kermit Ruffins packs Vaughan's every Thursday night, serving barbecue and red beans as a lagniappe.
800 Lesseps Street
504/947-5562
Preservation Hall
The Quarter's legendary Preservation Hall carries on its mission to preserve and present Dixieland jazz.
726 St. Peter Street
504/522-2841
Tipitina's
Uptown at Tipitina's , Sundays are usually reserved for a Cajun-style fais do do, or dance party.
501 Napoleon Avenue
504/895-8477
HOTELS
Windsor Court
Though it's only just over 30 years old, the Windsor Court drips old Southern luxury, from afternoon teas to lavish marble baths. In the Polo Club Lounge, choose a Vieux Carre cocktail (imagine a dressed-up Manhattan) to accompany the sounds of live music.
300 Gravier Street
504/523-6000
Roosevelt Hotel
The restored Roosevelt Hotel, where Louisiana's notorious Depression-era governor Huey Long allegedly had his own suite, still offers some residential-size accommodations. The Sazerac Bar, with its controversial Paul Ninas murals depicting the Old South, is a fancy setting for the namesake cocktail or a Ramos gin fizz.
123 Baronne Street
504/648-1200
Hotel Monteleone
The Hotel Monteleone boasts the Carousel Bar, a revolving bar in the round. Hotel suites are named for writers who loved the place, including Eudora Welty, Tennessee Williams, and Truman Capote.
214 Royal Street
504/523-3341