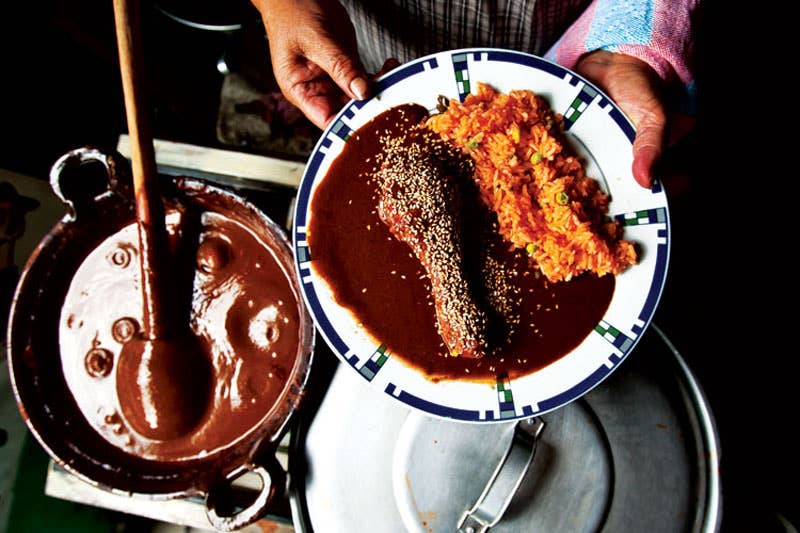 Travel
Mole: The Pride of Puebla
Mole sauce, a specialty in the Mexican city of Puebla, takes several days and a small army to prepare.
On a recent trip to Puebla, I paid a visit to a storefront mill called a molino. There I met Luz Maria Leonor Gonzalez, a lively mother of eight grown children who told me to call her Doña Luchita. It was Mother's Day, an occasion fit for mole poblano. The spicy-sweet, sienna-colored sauce is the preeminent holiday dish in this small colonial city 85 miles southeast of Mexico City. Housewives were lined up with buckets of ingredients they had prepared to be crushed to a paste. Through the rotary grinders went mulato, pasilla, and ancho chiles; spices like anise and coriander; sesame seeds, almonds, and peanuts; burnt tortillas, stale bread, even animal crackers, for thickening; and, for sweetness, brown sugar, raisins, chocolate, and ripe plantains.
Doña Luchita had been up into the wee hours frying her ingredients to intensify their flavors. I followed her home and watched her thin the paste with stock and simmer it. She made envueltos (wraps)—rolled tortillas topped with shredded chicken, onion, and mole. Her sauce had a fruity flavor, trailed by a mellow burn. Along with Doña Luchita's cheery ribbing—"We don't waste!" she cried, pointing at an envuelto left on my plate. "Who's going to eat this?"—it put me in a festive mood.
Such was mole poblano's original purpose. "An important person was coming, and the nuns made this for him," Doña Luchita told me, repeating an oft-told tale. But though the dish is said to have been invented at Puebla's 17th-century Convent of Santa Rosa, its name derives from molli, the Nahuatl word for sauce. Mole poblano's spices, nuts, and fruit arrived with the Spanish, but its chiles and tomatoes are native. Served everywhere now—mostly over chicken—it has become a national dish, an expression of Mexico's mestizo culture.
I got a taste of mole's past in the tin-roofed outdoor kitchen of Maria Gabriella Sandre de Tlapaltotoli, a woman with both Nahuatl and French last names who lives in Cholula, an ancient town on Puebla's outskirts. Sandre, an in-law of a chef friend of mine, had gathered relatives to pitch in on a batch of mole for the family. Each woman had a job: sorting chiles; charring tomatoes; slaughtering a turkey to serve with the sauce; simmering the mole in a washtub-size cazuela set over a blazing fire.
"This is mole del pueblo, not mole poblano," Sandre insisted, noting that each pueblo, or village, has its own recipe. This version, made without chocolate and with smoky chipotles, was earthier and more savory than Doña Luchita's. It took two entire days for a small army to prepare; were this an occasion like a wedding, they might have cooked enough for a thousand. "To make mole is a ritual," Sandre's sister-in-law Maria del Refugio said as she stirred. "It's so complicated, but it's special."
She explained that she knew the mole was done "when the oil on its surface forms a mirror." As if when she looks at it, she sees her own face: partly indigenous, partly European, proudly Mexican.