Sandwich Town: Guide to Great Philadelphia Sandwiches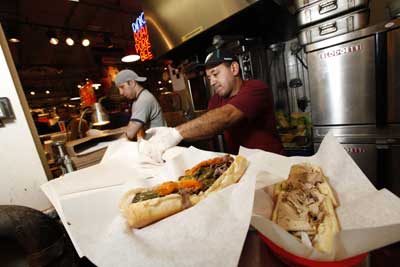 Where to Eat
Chickie's Italian Deli, 1014 Federal Street (215/462-8040). Inventive hoagies—fried tomato, bacon, and roasted peppers; tuna and proscuitto—are turned out by this South Philly shop.
Joe's Steaks + Soda Shop, 6030 Torresdale Avenue (215/535-9405). The thin-sliced ribeye is traditionally served with diced onions and American cheese at this old-timey Northeast shop.
Tommy DiNic's at the Reading Terminal Market, 15 North 12th Street (215/923-6175). This Center City stand turns out deeply seasoned roast beef and pork sandwiches, typically topped with fried long hots or horseradish.
Greenman's Deli, 2900 Robbins Avenue (215/288-3336). The most popular of this Northeast store's two-foot hoagies is the Original: seven meats, three cheeses, and the works.
J&G Lunchmeat Villa, 373 East County Line Road, Ardmore (610/642-9477). Representative of Philly's corner delis, this suburban shop makes hoagies both traditional and innovative (like the pepperoni-heavy "pompilli").
Jim's Steaks, 431 North 62nd Street (215/747-6617). Try the steak lavished with Cheez Whiz and hot sauce at this 72-year-old West Philly shop.
John's Roast Pork, 14 East Synder Avenue (215/463-1951). Serving since 1930, this South Philly store pairs roast pork and sharp provolone with wickedly spicy spinach.
Johnny's Hots, 1234 North Delaware Avenue (215/423-2280). This takeout shop near Penn Treaty Park is known for its hot sausage and fishcake combo slathered in pepper hash.
Lenny's Italian Deli, 900 Fayette Street, Conshohocken (610/825-4569). The specialty here is the pulled pork Italiano served on a football-shaped semolina roll.
McNally's, 8634 Germantown Avenue, Chestnut Hill (215/247-9736). This Chestnut Hill pub is home to the Schmitter, a saucy grilled steak, salami, and cheese concoction served at Eagles' and Phillies' games.
Where to Stay
Loews Philadelphia Hotel, 1200 Market Street. Rates: $260-$290, Double. This 518-room luxury hotel in the heart of downtown Philadelphia, just around the corner from Reading Terminal Market, puts you in easy striking distance of some of the city's best sandwiches.
For information on traveling to Philadelphia, contact the Greater Philadelphia Tourism Marketing Cooperative (800/537-7676).