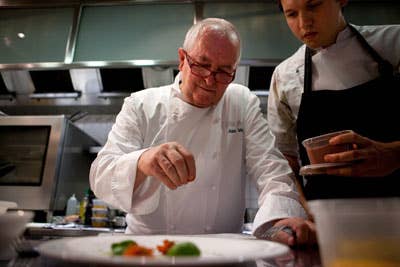 I remember it as if it were yesterday. My parents had sent me to Spain to turn me into the worst lawyer in history. I took a train to San Sebastian and booked for dinner at Arzak. There I was, alone, 19 years old, in Spain's most famous three-Michelin-star restaurant, sweating over whether I'd have enough money to pay the bill. There was scorpion fish encased in light pastry; prawns served over crunchy noodles—at the time, avant-garde treatments of local ingredients. These dishes celebrated Basque seafood and cooking traditions while carrying them into the future. Then the chef, Juan Mari Arzak, appeared, smiling and talking with all the tables, attentively listening, speaking with pride of his town, his region, his fellow chefs. I knew, then and there, that I would turn my dream of being a chef into a reality.
Juan Mari was the driving genius of a trend that began in the 1980s, in northern Spain. Little by little, it grew to become an emancipating national movement. Not only did regional cuisines rejuvenate, but regional wines, oils, cheeses, and other products got better and better. It was an authentic revolution sparked by Arzak, and it inspired a new generation of chefs to take up the torch.
Juan Mari's daughter, Elena, also a chef, is now the pillar of Arzak's operations. But otherwise the restaurant is the same, the decor is the same, even the staff is the same. And it's because Arzak is not just a restaurant. It's almost the family home—the same place where Juan Mari's mother served meals to all of San Sebastian for decades.
Four years ago, when Juan Mari came to Peru, all he did was taste and write notes and ask questions, with the curiosity of an eight-year-old, only with more than 40 years' experience as a chef. And I remember, back in Spain, when he took me to dinner in Madrid. We had to make a presentation at ten the next morning. The hours went by, and it was 6:00 a.m., and he wanted to keep talking. I ended up arriving two hours late for our appointment the next day; later I learned that he was among the first to arrive. I remember the man who wanders around San Sebastian, the man everybody greets. We all love Juan Mari. Men like this don't come around very often. Being his friend is a privilege and an honor. I am a chef thanks to him. Long live Juan Mari Arzak! —Gaston Acurio, Astrid y Gaston, Lima, Peru
Arzak
Avenida Alcalde Jose Elosegi, 273
20015 San Sebastian, Spain
tel: 34 943 278 465