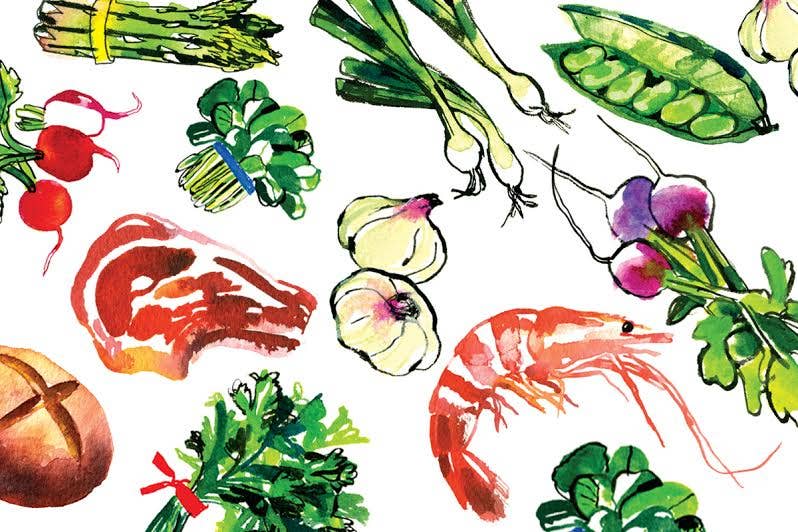 On the 11th day of May each year, Bar-celona's carrer de l'Hospital, just off the Rambla and behind the Boqueria market, is the main site for the Fira de Sant Ponç (rhymes with flaunts)—the Catalan capital's most evocatively perfumed fiesta and a day that is much beloved throughout the region. Stands pop up overnight like wild mushrooms, and all of Barcelona browses, shops, and stocks up, while in the city's upper reaches, in the former outlying village of Sarria, another, less crowded version of Sant Ponç sets up in the neighborhood's most rustic square, the plaça Sant Vicenç.
Sant Ponç is the patron saint of herbalists and beekeepers, and his feast day is when, so to speak, the forest comes to Dunsinane—which is to say when all the Catalonian hinterland comes to Barcelona laden with every natural product it can lug, haul, drag, or carry. This means chamomile, rosemary, thyme, laurel, lavender, basil, mint, pollens, honeys of every kind (and even bees kept in glass cases working away at their honeycombs), candied fruits, headache remedies, aphrodisiacs, and all imaginable condiments and savories, from sage to fennel to saffron to tarragon. The merest mention of the day of Sant Ponç to any Barcelona native will invariably elicit a backward inclination of the head, a closing (perhaps even a fluttering) of the eyelids, and a deep, luxuriant nasal inhalation.
Everyone in Barcelona, including the current mayor, Joan Clos, seems to find a moment, especially if the weather is good, to disappear from work and browse through the artisanal sausage, goat cheese, wild mushrooms, cakes, jams, jellies, anti-tobacco licorice sticks, herbal olive oils, homemade wines, pies, cheesecakes, fig bread, crepes, hand-carved wooden spoons, knives, and forks, teas, coffees, and a thousand medicinal herbal potions, lotions, unguents, and concoctions guaranteed to cure what ails you or at least make you smell good in the attempt. In the 16th century, these tribute days were occasions for farmers to empty their larders to prepare for the harvest soon to come—a sort of late spring cleaning. Medicinal herbalists and the sorceress fringe soon hijacked the tradition and began setting up stalls along the walls of the 15th-century hospital, where, presumably, there was a more urgent interest in remedial products.
Today, Sant Ponç is the unofficial beginning of a Catalonian summer and is Barcelona's sweetest and most aromatic day.