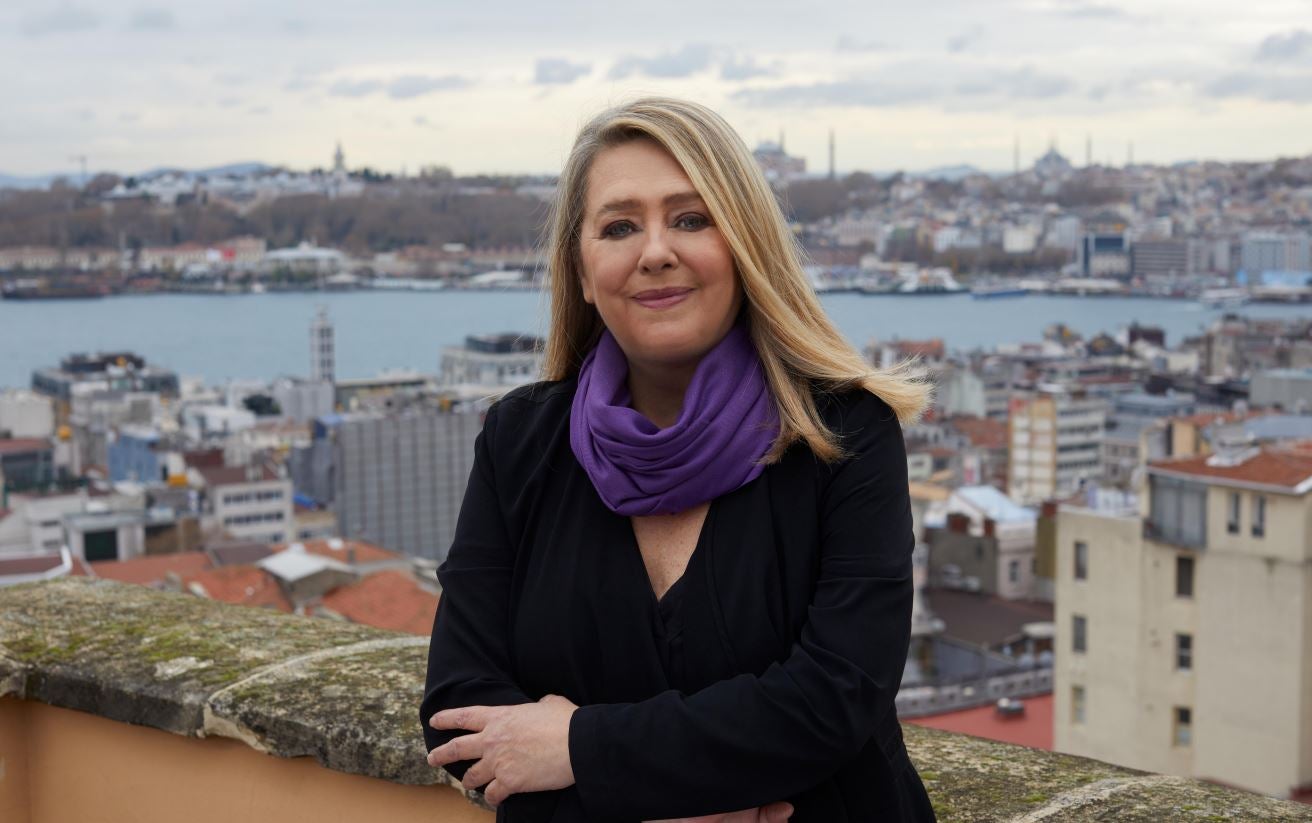 ---
Gritty and glamorous, secular and devout, antique and up to the minute, Istanbul is flooded with pleasure seekers these days, and no wonder. A former capital of Christian and Ottoman empires, this sprawling metropolis has it all: history to give Rome a run for its churches and statues, water panoramas to rival Hong Kong's, and a many splendored cuisine all its own. At times, I'm swept along with everyone else into the jet-setting restaurants and boutiques of some newly gentrified enclave. But I also have my own, private Istanbul. Having fallen in love with the city over years of visits, I recently bought an apartment overlooking the Bosporus, the strait that separates Europe from Asia. I do much of my hanging out now in my leafy neighborhood of Cihangir, famous for its sidewalk cafes and fin-de-siecle apartment buildings. And off the tourist trail, I delight in watching the city's new gloss dissolve into a black-and-white cityscape veiled in huzun, a feeling defined by the novelist Orhan Pamuk as a kind of collective nostalgia for the vanishing, crumbling past.
Huzun. It envelops the battered old pickle shop near my house and mingles with the city's signature perfume of exhaust fumes and fresh mackerel being grilled out on the ferry docks. Setting out to explore this other Istanbul, I revisit mosques and bazaars, pause at tea gardens by a weedy Byzantine ruin, or just ride ferries all day to take in again that magical skyline spiked by rocketlike minarets. And when I eat, it's not in the manner of Ottoman pashas but like regular Istanbullus, digesting the city's past through its evocative everyday restaurants.
With its succulent kebabs and simple grilled fish, its healthful vegetable stews and bright salads, along with all manner of meze (small dishes), from stewed white beans to stuffed mussels (see A Bounty of Small Plates), Istanbul's food is easy to love. The local cuisine has much in common with the cooking of the Middle East and the Balkans: a reliance on yogurt, an emphasis on braising or grilling, a skill with stuffed vegetables, and a penchant for eggplants, legumes, bulgur, and rice. But Istanbul's food has its own unmistakably urban identity, too. Its patchwork of flavors and eating styles reflects both Turkey's shared nomadic heritage and the city's past as the capital of the cosmopolitan, multicultural Ottoman Empire, which attracted vast waves of migrants.
In its Ottoman heyday, Istanbullu cuisine was lavish indeed. After Sultan Mehmet the Conqueror sacked Christian Constantinople in 1453 and renamed it Istanbul, he equipped his Topkapi palace with a domed kitchen so vast that it could have been mistaken for an imperial mosque. Delicate and refined, Ottoman court cooking was also highly specialized; separate guilds of chefs were assigned to the making of particular genres of dishes: kofte (meatballs), kebabs, pilafs, or, say, helva. Today, Istanbul's eateries reflect that specialization: you have skewered lamb at a kebapçi (kebab joint), fish at a balikçi (fish house), borek—the savory pastries fashioned from layers of paper-thin yufka, a phyllo-like dough—at a borekçi, and boza, a thick fermented-bulgur drink, at a bozaçi. Alcohol? The city's secular-minded bohemians do their drinking—plus plenty of eating—at meyhanes, raucous taverns traditionally run by non-Muslim minorities.
Many of the best meyhanes reside in the very heart of one of the city's trendiest neighborhoods, Beyoðlu. This European-inflected district lies across the Golden Horn estuary from the imperial mosques of Sultanahmet, the historic old city where the metropolis began its life as Byzantium and lived on as the seat of the Ottoman Empire until 1923, when the modern Turkish republic was born. Since Byzantine times, colonies of foreign traders have made Beyoðlu their playground, and the tradition persists. These days tourists do their shopping and clubbing along Istiklal Caddesi, Beyoðlu's main promenade (see A Storied Boulevard), flanked by former embassies and ornate Art Nouveau buildings. But off in the side alleys, history hangs on in the meyhanes, where old-timers wash down their mezes with the potent, anise-based liquor called raki.
The owner of my favorite meyhane, a gruff, cigarette-puffing 85-year-old named Refik Arslan, attributes his vigor to a daily dose of that 80 proof spirit. Arslan tells me that when he came to Istanbul from Turkey's Black Sea region at the age of 18, newspapers were speculating about whether Istanbul's population would ever reach a million. "Now it's, what," Arslan muses, "12 million?" Back in those days, this section of Beyoðlu was home to thousands of migrants: German engineers, Serbian waiters, hard-drinking Russians. Little Paris, the area was dubbed.
Appropriately, Arslan's establishment, Refik Meyhane, has the timeless air of a Parisian bistro. The food here and at nearby meyhanes deliciously ties together the many strands of Istanbul's polyglot past. Those irresistible morsels of fried liver with parsley-and-onion salad? That's arnavut ciðeri, or Albanian liver. The tomatoey cold bean or fish stews called pilaki? A souvenir from the Greeks. Also on a typical meyhane's mezes tray: a mayonnaise-drenched Russian salad; a layered, sweetly spiced Armenian chickpea pate called topik; and Circassian chicken in a creamy walnut sauce, from the Caucasus.
Like other Istanbullus, I develop a stubborn, irrational devotion to particular joints and food rituals. Each morning I practically sleepwalk to my local çay bahçesi (tea garden), where Cihangir's intellectuals crowd around tables laid out beneath tree branches and grape arbors, all shadowed by our green neighborhood mosque. At a çay bahçesi, you order your tulip-shaped glass of sweet çay (black tea) and are free to linger forever. I usually take along a breakfast of feta, cucumbers, olives, and simit, a sesame-crusted, ring-shaped bread sold as a snack by street vendors all over the city. Two hours later, when the wood-burning oven is fired up at the corner dive, I'm back at the tea garden with my midmorning lahmacun: a pliant, smoke-tinged oval of dough topped with a faintly spicy smear of ground meat, sprinkled with lemon juice, and rolled around parsley sprigs and tomato slices.
For lunch, I dash across the traffic-choked intersection for mantý (dumplings) at Özkonak, a worn storefront wedged between trendy cafes. Over tin bowls of red lentil soup, a trio of cops are talking soccer. Greek-speaking ladies, remnants of Cihangir's once substantial Hellenic community, order their usual kabak graten (zucchini under a blanket of gratineed bechamel). My mantý arrive: tiny, toothsome meat dumplings (versions of which appear across Turkey and Central Asia) bathed in tart yogurt and enriched with a flourish of chile-and-mint-infused butter.
Özkonak belongs to a cardinal genre of Istanbul eatery, the esnaf lokantasi, a rudimentary merchants' canteen offering sustenance to shopkeepers and city workers. The esnaf setup rarely varies. There's always a guy who hails you with a loud "Hoþgeldiniz!" ("Welcome!") Always a portrait—or six—of Mustafa Kemal Ataturk, the stupendously photogenic, sartorially splendid founder of the Turkish Republic. Ordering is easy: just point to the cold cases and steam tables and nod.
For a truly encyclopedic selection of esnaf lokantasi fare, I go to a place called Kanaat, near the ferry landing in Üskudar, a bustling working-class district on Istanbul's Asian shore. In a big, somber room that seems lost in the 1970s, I tour the food displays, ravenously plotting my lunch. Everything one wants to know about Turkish cuisine is here, somewhere. I find zeytinyaðli—green beans, artichokes, celery root, or other vegetables braised in olive oil until luscious and spoon tender—and every kind of stuffed vegetable: cabbage, peppers, eggplant and grape leaves filled with meat or sweetly spiced rice. In the glassed-in kitchen, cooks make Uzbek lamb-and-carrot pilaf, stewed white beans, all types of kofte, and yahni, earthy stews of lamb, tomato, and eggplant. By the entrance, sweets glisten in their dark amber syrup. Fragrant quince chunks, bread pudding with sour cherries—it's a trauma to choose.
Bahadir Kargili, one of the owners, tells me that his grandparents founded Kanaat Lokantasi in 1933 after coming from Albania during the reign of the last sultan. Back then, he says, Albanians in Istanbul were famed for their dairy treats, such as muhallebi (milk pudding) and a thick cultured cream called kaymak. The family started out peddling helva and ice cream from a cart, and regulars still line up for Kanaat's frozen offerings, particularly the goats' milk vanilla ice cream, which derives its chewy, elastic texture from sahlep, the powdered root of a wild mountain orchid. Old people, Kargili says, come in and weep because the ice cream transports them back to their childhood. Ah, Istanbul.
A pillar of Istanbul's foodways is its kebapçi, or kebab joints; indeed, most visitors consider grilled meats and their tangy accompaniments to be among Istanbul's native foods. But spicy skewered lamb, chiles, hummus, and other Middle Eastern fare are actually fairly new to the city, the consequence of a vast influx of migrants from southeastern Turkey in the early 20th century. Easterners still command the grills of the city's best-known kebapçi, including the fashionable Tike, in the well-heeled Levent district, and Hamdi, an old-school lamb bastion where skewers come framed by a breathtaking view of the Suleymaniye Mosque. Wanting to delve deeper into Istanbul's kebab subculture, I one day enlist my friend Soner Karababa and a pal of his, a grill chef named Hariye Usta, to lead me on an expedition to Horhor, a kebab-centric street in the crowded, predominantly Muslim Aksaray neighborhood.
Riding in Soner's car through a welter of slapdash, low-rise concrete buildings, we pull in to a shabby strip mall lined with kebapçi. We pass up one called Ciðeristan (literally, Liverstan) in favor of one named Neden Urfa (Why Urfa). Why? Because Urfa, a city near the Syrian border, is one of Turkey's kebab meccas and Usta's and Soner's hometown to boot. The interior of the place is a gaudy desert mirage, every inch of it festooned with toy camels and roosters, carpets, and faded posters of Anatolian pop singers, all of it filtered through a haze of wood smoke from the grills. We take a seat at a low table set with bowls of isot, smoky, rust-colored dried chiles that Urfans seemed to be hooked on.
Kebapçi meals usually follow a strict progression. Strong tulum cheese and puffy breads give way to içli kofte, torpedo-shaped fried bulgur shells filled with spiced lamb. Then come lahmacun and, finally, skewers of meat accompanied by a pomegranate syrup-laced salad of tomatoes and herbs. Our minced-lamb urfa kebab is salty and coarse, but everyone loves the eggplant-and-meatballs skewers and the ciðer þiþ, which alternates liver cubes with crisp but plush nuggets of sheep tail fat. In the Eastern tradition, we lubricate our meal with ayran, a refreshing yogurt drink. The best lands last: kunefe, a miraculous, syrup-drenched cheese-and-shredded wheat pastry served with mirra, the molasses-thick and bracingly bitter Arabian coffee.
"No, no! Don't put your mirra cup down!" Soner cries. "Urfans say that if you do, you'll have to fill it with gold or marry the server!" The server is 16 and no pop star, so I just wave my cup in the air.
If Istanbul's kebapçi evoke the culture of Turkey's Arabic-influenced eastern fringes, a fish feast alongside the Bosporus at a balikçi is a journey westward, a reflection of the long-nurtured European tastes of Istanbul's secular elites. "People would go to a balikçi to dress up, drink raki, feel worldly and elegant," my friend Engin Akin recalls. I'm having dinner with Engin and a group of friends at Kuyu, a 52-year-old, defiantly civilized fish place in the Bosporus village of Arnavutkoy, a 30-minute drive from central Istanbul.
Veteran waiters in white jackets and bow ties ceremoniously present mezes trays. Our table shares cubes of beyaz peynir, a feta-like cheese, and fresh green melon (the requisite raki accompaniment), along with boiled winter greens splashed with olive oil and the smoky and fluffy house patlican salatasý, a grilled-eggplant spread. At a balikçi one also eats lakerda, thick slices of cured bonito served with raw red onion, which cuts through the fish's buttery richness. After our mezes binge, the grilled fish seems like an afterthought—civilized folk eat either one or the other, Engin insists—but neither of us is able to pass up Kuyu's expertly grilled lufer (bluefish).
After dinner, we stroll along Arnavutkoy's waterfront. The neighborhood that climbs up behind us is a faded snapshot from another epoch, with teetering wood houses that lean out over the steep and narrow streets. I notice, though, that since my last visit, Arnavutkoy's formerly splendid yalis (Ottoman summer mansions), with their wedding cake ornamentation, have been rescued from their huzun-inspiring decay with spiffy coats of fresh paint. Other things have changed, too. "Arnavutkoy used to be populated by Greeks and was buzzing with meyhanes," our friend Hulya says. Today, most of the Christian community, including the Greeks and their meyhanes, is gone. Hulya also remarks that when she first came to Kuyu, 30 years ago, the traffic-swamped road that separates the restaurant from the water hadn't been built yet. Everyone falls silent, each of us lost in a private reverie, as giant freighters slowly glide down the Bosporus in the gathering dusk.