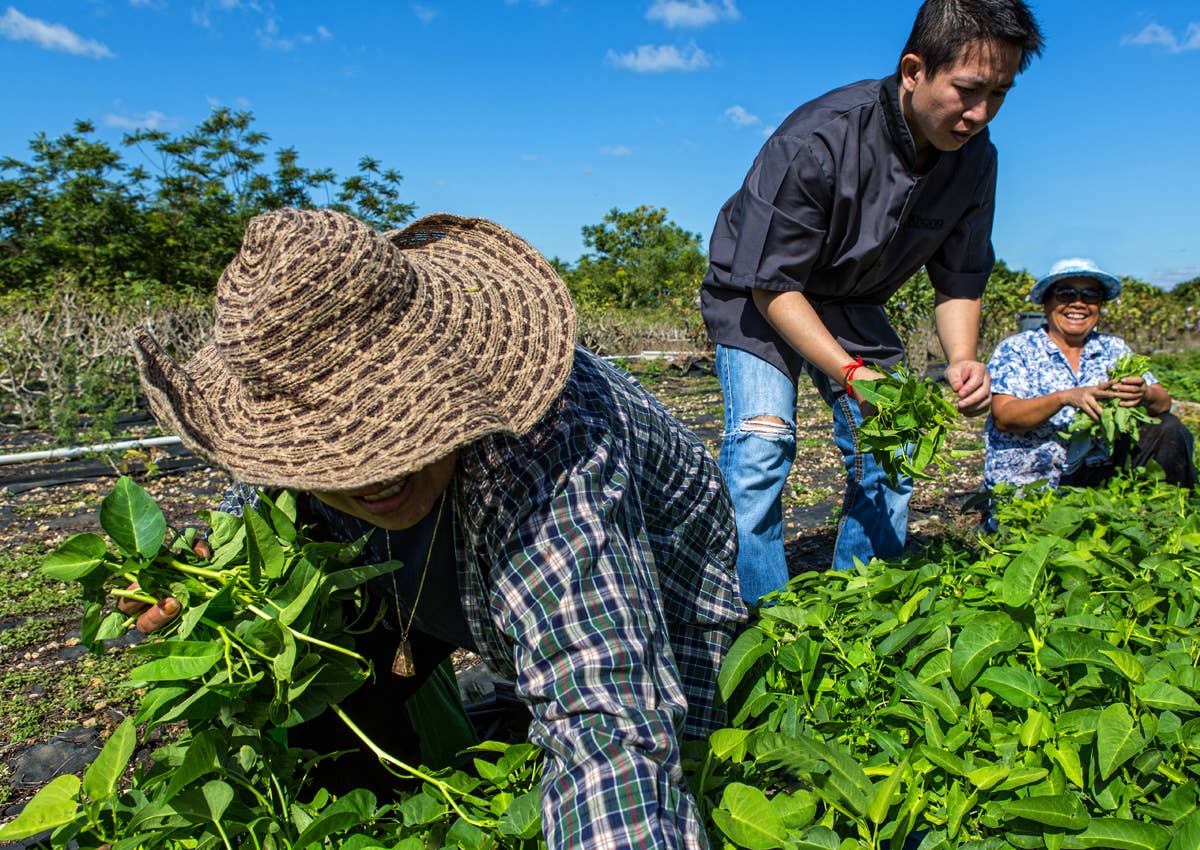 Travel
Thailand, Florida
For South Florida's Thai community, local produce takes on a whole new meaning
If you're looking to open a restaurant in Miami Beach, Florida, a farm-to-table eatery serving authentic dishes from the Mekhong River region in Thailand may not be the most obvious concept. But John Kunkel, CEO of Miami restaurant group 50 Eggs, is nothing if not persistent in his passions. It's been nearly ten years since he started the process of convincing chef Piyarat Potha Arreeratn—a.k.a. chef Bee—to open Khong River House, a restaurant featuring the foods of Bee's native Thailand. The two met in 2004, when Kunkel was in the process of opening a fast-casual taco franchise, and Bee had a restaurant in North Miami. John would frequently stop by, not to eat the dishes on the menu, but to share the kitchen's family meal—the hearty, flavorful, authentic stuff that Bee and his line cooks were making for themselves, as opposed to the more Americanized take on Thai flavors they sent out to their customers.
Khong River House was born in early 2013, and became a buzzing success almost immediately. When I visited, I was struck by how fresh and bright the dishes tasted—farm-to-table flavors with a cuisine not normally known, in America, for its use of regional ingredients. But in South Florida, local produce takes on a whole new meaning: With the same micro-climate as Thailand, the area is home to a thriving Thai farming community, which supplies fruits, vegetables, and herbs to immigrant enclaves and Thai groceries, sometimes in addition to growing other foods for profit.
In Homestead, a farm town a short drive from the Miami Beach neighborhood where Chef Bee runs his kitchen, the Buddhist temple Wat Buddharangsi acts as the cultural epicenter of the Thai immigrant community, hosting cultural festivals and holidays. A frequent visitor to the temple, Bee had cultivated the right connections to call on the Thai farmers to supply his restaurant, recreating the foods of his childhood with produce that was both authentic and local. Intrigued by the idea of a slice of rural Thailand hiding out within an hour's drive of Miami, I asked for a tour—and so I found myself sitting in the passenger seat of Bee's new car, with Eddie Acevedo from 50 Eggs in the back seat, speeding off towards the horizon to meet up with the restaurant's forager, Pranee, at Wat Buddharangsi.
As soon as we arrived at the first farm, I felt like I was on a different continent. I was struck with a feeling of luck and gratitude: that Bee and Eddie were introducing me to this strange glimpse of Thailand; that Florida's humid, sunny climate can support this kind of trans-cultural farming; that I got to stand there surrounded by curry leaves, jackfruit, lemon grass, holy basil, and knowledgeable, welcoming farmers encouraging me to smell this, and taste that. We walked by a humble two-room house with peeling blue paint, the air fragrant with lemon grass, and a short walk brought us to a field overlaid with a tarp. My tour guides began rapidly speaking in Thai—everyone was excited by a plot of Chinese watercress growing out of plastic kiddie pools. The invasive species has to be closely controlled, and can be difficult to find in the states. "You have to cook them very quickly," Pranee instructed. "Never more than two minutes."
We visited three farms in Homestead, with Pranee and Bee gathering up herbs, peppers, greens, and mangos for us to eat for lunch, in addition to the bags of watercress we carried with us. Each farm is small but robust, and to keep up with Bee's ingredient needs, Pranee needs to source from a half-dozen different places: She finds fruits from one farm, vegetables from another, and so on. A smiling middle-aged woman who doesn't speak much English, she was a dervish of energy, plucking and bruising herbs for me to smell, and half-climbing trees to make sure she grabbed the best, ripest sweet sop for us to taste. She and Bee kept up a running commentary that served as a primer for the Thai pantry: "The curry flowers we use for making a soup when you have an upset stomach," Bee pointed out. "Pandan leaf is for sticky rice and wrapping up desserts, and my mom always used them to test if the oil is hot enough before cooking. The large leaves of Elephant tongue are used for curries or salads, or the leaves can be folded to form a makeshift drinking cup." Rows of Thai chiles were laid out to dry everywhere—on tarps, in kiddie pools, in aluminum trays. Mango and lychees hung heavy on the boughs, and though dragonfruit season had just passed, the snake-like vines climbing down the trees still made an impressive backdrop for our morning.
Before leaving Homestead, we returned to the temple, slipping off our shoes to sit by the altar. We made an offering of fruits and herbs to the temple, where the two resident monks eat just one meal a day, and rely on donations for all their food. On the drive back, hungry and a little sun-fried, we chat about how Bee uses his local bounty. "In the U.S., most Thai food is Bangkok-style," Bee explains. "It's very sweet, so it's been easy for Thai people to open successful restaurants with this style of cooking, because it suits the American palate." But Bee's focus on the food of northern Thailand—and his emphasis on authenticity—means he can bring more balance to the flavors on his menu. "Some people equate authentic Asian food with spicy," he says. "But the flavors are more nuanced than that—they're bitter, sour, salty, and sweet." Back at Khong River, we laid into our haul: quick-sautéed Chinese watercress greens with garlic and chile, a papaya salad made with just-picked fruit, herbaceously aromatic gin cocktails. The flavors are vibrant, colorful, and alive—it almost felt like I was eating and drinking in Thailand. And in a very South Florida way, I was.