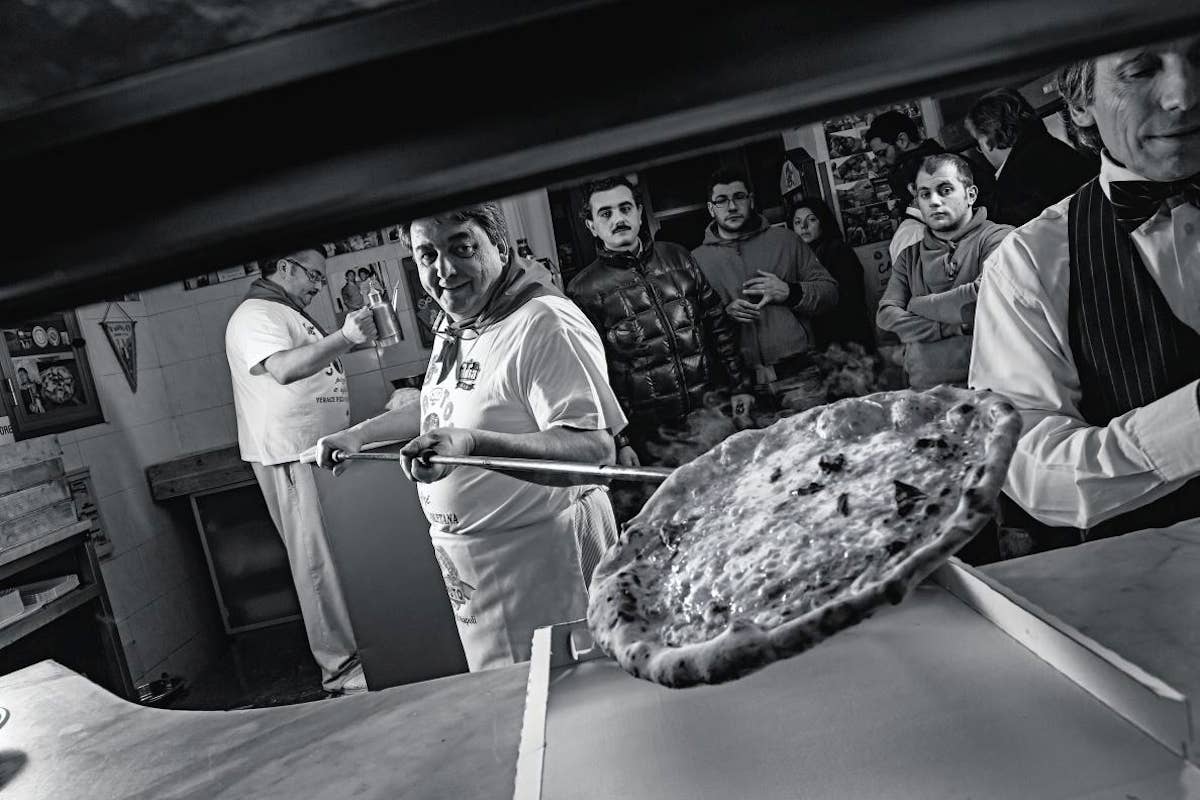 Travel
The Gold of Naples
In the birthplace of the world's favorite food, the best pizza comes down to the basics
It's a cool thursday evening, and Paolo Vitale dodges his tiny Fiat through the cobblestone streets of Naples like it's an escaped bumper car. We speed past crumbling cathedrals desanctified by graffiti and 15th-century apartment buildings flying tattered flags of laundry from wrought-iron balconies. Tiny shrines are embedded into building walls. Jesus Christ is everywhere. No sleep on the flight from New York last night, and I'm experiencing that sort of anxiety codependent travelers like me are apt to feel when we leave home without someone who loves us. I start to worry I won't survive this ride, that I won't get to experience even one bite of the iconic food I've come here to eat—a food I consider part of my heritage.
Paolo is a 30-something policeman with a boyish face who smokes cigarettes and wears a black leather jacket. Despite these tough character traits, he's kind as can be, and an old friend of the other passenger in this car, Roberto Caporuscio, a solidly built Neapolitan expatriate in his 50s who owns two of my favorite pizzerias in Manhattan, Keste and Don Antonio. I've asked Roberto to meet me in Naples, the hometown of my beloved but long gone great-grandfather, to help me learn about what I, at least, deem to be my ancestral city's greatest creation: the pizza.
Strange to travel such a distance for pizza Napoletana, I know. These days so many American pizza makers are discovering Neapolitan techniques that you can't go a few blocks in a city like New York without passing a pizzeria with a woodburning oven. But in Naples, the pizza isn't just a technical achievement—it's an art form, a sacrament, a birthright. Here is where the fine, protein-rich Caputo "00" flour, the obsession of Italian pizza makers, called pizzaioli (or in the Neapolitan dialect, pizzaiuoli), is made right downtown at a nearly century-old family-owned mill. Here is where tomatoes flourish in volcanic soil beneath the warm Mediterranean sun, developing sweet, concentrated flavor. Here is where the water buffalo that provide the milk for moist, grassy mozzarella di bufala graze on marshy farmland. And here is where those iconic wood-fired ovens, whose blazing heat pulls these ingredients together to create the perfect pizza, are constructed by artisans out of brick and mortar (see The Building Blocks of Pizza). Here, pizza is just plain better.
The Fiat lurches to a halt in front of our first destination. "Pizz-a-reee-a Star-eee-ta," Paolo announces like an Italian tour bus operator. Ah, yes, I think, the 112-year-old Starita, the historic location where Sophia Loren sold pizzas to smitten admirers in the 1954 classic L'Oro di Napoli, or The Gold of Naples, a film that is to Neapolitans what Citizen Kane is to Americans. So lauded is the shop that its third-generation owner, Antonio Starita, was once called to Vatican City to present a pizza to Pope John Paul II. Tonight, Antonio's 40-year-old son Giuseppe is minding the oven; I watch, mesmerized, as he builds a mouthwatering pie, layering thick, fat-studded slices of mortadella atop dough smothered with creamed pistachios. Suddenly it hits me. I am famished.
Heading off to work the night beat, Paolo bids us buona sera as Roberto and I make our way back to one of the rear dining rooms. "I don't understand," Roberto mumbles, a look of panic in his eyes as he notices what I count to be just three empty tables. "It's usually packed by now." But he soon figures out why. "Ah," he says, pointing to a TV mounted in a corner where onscreen a cadre of men in baby blue uniforms sprint up a grassy field. "Team Napoli." Turns out the one thing that trumps pizza in this town is soccer. As soon as the game is over, a line of 60 or more people forms, all waiting to get in.
Roberto orders us a bowl of angioletti fritti, fried strips of tender pizza dough, topped with a colorful salad of marinated grape tomatoes and arugula, and a plate of frittatine di pasta. Crunching through one of these golden fritters, I find a dense tangle of bucatini creamy with bechamel and smoked mozzarella, and studded with diced ham. It immediately becomes my favorite fried food of all time.
Moments later, a steaming hot pizza, the Montanara Starita, arrives, its craggy crust a deep golden brown, puffed and charred in places, its tomato sauce bubbling like Vesuvian lava beneath vibrant leaves of basil. To make this special pie, Roberto tells me, a disk of dough is fried before it's topped with sauce, cheese, and herbs and set in the oven, where the sauce and cheese meld together. The process results in a crunchy crust with savory notes of toast and smoke. "You know," Roberto says, "it takes many years to learn to do this, many pies to perfect it." He should know; he trained here in his 30s, when Antonio would have him top his trial pizzas with cooked rigatoni—it's the same weight as mozzarella but less expensive.
A warm feeling washes over me as I devour the pie with a fork and knife, as locals do. I gaze across the dining room, now filling up, and see a young boy reading the menu aloud to his be-suited elder. I think of how pizza, wherever it's been imported and however revised, has brought so many walks and generations together—fathers and sons, co-workers and co-stars, study groups and track teams—to eat our pleasurable fill. So seemingly simple yet so profoundly satisfying, this amalgam of cheese, sauce, and crust is a true food of the people. God bless you, pizza.
The following afternoon, Paolo is back behind the wheel as we head to Via dei Tribunali, an undulating roadway in the city's center lined with churches, bakeries, museums, and Naples' most ancient pizzerias. As Paolo slows to look for parking, I notice two old men in newsboy caps gesticulating wildly toward each other. One reminds me of my great-grandfather, Luigi Caputo, who left this city around 1910 for Massachusetts where he married my great-grandmother, Maria. I wonder if Luigi had ever missed this place. He died before I was old enough to ask him.
Our first stop is Il Pizzaiolo del Presidente, where the boisterous pizzaiolo Enzo Cacialli bursts toward us insisting we sample his pizza fritta. Fried pizzas are common here, a holdover from the days when many shops had no room for the dome-shaped oven that the pizza is associated with today. They're usually just lard-smothered dough topped with sauce and cheese, or stuffed calzone-style, but Enzo's decadent version features two fried pies sandwiching a filling of tomatoes, gooey provolone, ricotta, salami, and the delicious pressed pork loaf known as ciccioli. While Roberto and Enzo catch up with each other, Paolo and I, not knowing each other's language, sit silently together picking at the pizza. It's delicious but too rich to finish, at least if we plan on sampling anything else today. "Very goooood," he says to me. "Molto bene," I reply.
Next up is Di Matteo, which, like many older pizzerias here, maintains its original friggitoria, a street-side window serving fast foods such as rice balls, frittatine, and eight-inch pizzas folded into fours called portafogli ("wallets"). Roberto tells me that it was only during the past half-century that many pizzerias of Via dei Tribunali started expanding to create dining rooms; before that, pizza's consumption was largely limited to the streets.
That takeout tradition dates back centuries. While yeasted flat breads are ancient and ubiquitous, it's in Naples that they became pizza. I've thumbed through plenty of books trying to figure out why, but the answers are murky at best. All I know is that sometime, likely in the mid-17th century, Neapolitans started realizing that those ornamental tomatoes brought over by the Spanish weren't poisonous as had been believed. And soon after, the pomo d'oro, or golden apple, made its way into pasta dishes and atop the flat breads sold to the city's poor from small storefronts and pushcarts. By the 1800s, those tomato-sauced pizzas became known as pizza marinara, named for fishermen who nourished themselves with the handheld victuals before heading out to sea. Along with tomato sauce, the marinara was often topped with olive oil, fresh herbs, and salt, though more luxurious versions were sprinkled with meats, shaved dry cheeses, or sardines.
Nearly 100 years later, in 1889, something magical happened that would change pizza's role in Neapolitan society forever. It was then that Raffaele Esposito of Pizzeria Brandi slapped together a pie representing the three colors of the Italian flag—white mozzarella, red sauce, and green basil—and created the pizza margherita. The pizza was a special order for the visiting Queen Margherita of Savoy, who, tired of fancy French dishes, desired something more representative of the local cuisine. So pleased was she with the pie that she sent a letter of appreciation to Esposito. So flattered was Esposito that he named the pizza in the queen's honor. From then on, pizza became a dish fit for everyone, from the hoi polloi to the fanciest of diners.
Because this food of the streets found its fame in a highfalutin innovation, few Neapolitan pizzaioli are sanctimonious enough to not occasionally mix things up. At Pizzeria La Notizia in the city's affluent Vomero district, lauded pizzaiolo Enzo Coccia serves us the pizza del contadino, a rustic calzone, puffed up like a fairy-tale clamshell and stuffed with warm escarole tossed in anchovies, pecorino cheese, and buffalo mozzarella. Giuseppe Starita is another mastermind of whimsical forms: the porto e porto, creased-over dough with fresh ricotta in one side and bitter broccoli rabe in the other, with orbs of buffalo mozzarella in between; the pistacchio e mortadella, made with pistachio pesto and Italian bologna; and his piece de resistance, the rachetta, a tennis racket—shaped creation, its calzone "handle" stuffed with ricotta, mozzarella, and mushrooms, its pizza "net" topped with more mozzarella, pecorino romano, basil, and olive oil.
Given such lavish pies, I can do little for days beyond open my mouth for another bite. But I've come here seeking not just indulgent food, but food for thought, so Roberto takes me to the town of Recale 22 miles northeast of the city to check in on his friends, brothers Enzo and Lello Giustiniani, who own Pizzeria Capatosta. When we arrive, they are just firing up the oven with splits of beechwood and oak. Enzo tells me that the forno will be ready once the black soot along the sides turns white, at which point the oven will have reached between 825 and 875 degrees.
With no one around, I ask Lello if I can get behind the counter and make a pizza of my own. Working at my side, he reaches for two mounds of dough: yeast, salt, and flour left to rise and develop flavor for 12 hours (some pizzaioli wait up to 48). If handled properly, he tells me, it will be light and airy when baked. He shows me how to press my fingertips ever so gently from the center outward toward the edges, flattening it gradually and forming a half-inch-wide crust. Then we flop the dough over our hands several times, gingerly stretching it until it's roughly ten inches in diameter. The hard part is manipulating it gently enough so as not to overstretch it, which results in a wet and flimsy pie, its bottom too thin to support the sauce.
That sauce—tangy, fruity, and earthy all at once—amounts to nothing more than canned whole peeled tomatoes pureed in a food processor with some salt. I swirl on a ladleful, then sprinkle on shredded fior di latte, a cows' milk cheese that the Giustinianis prefer for its lower fat content, which makes for even melting. Finishing off with three fat basil leaves, I tug my creation from the lightly floured marble countertop onto a long oar-like peel, a process that stretches it so dramatically that I know I'm destined for failure.
After just 90 seconds in the oven, our pies are done. While Lello's is perfect, mine comes out elongated, soupy, and downright ugly. "Eh," Lello shrugs. "It's your first time." I wasn't expecting great things here. It takes years of apprenticeship before one is considered a true pizzaiolo in Naples, and I'm just getting started. I carry my shame into the dining room to gleefully devour its imperfections. From the corner of my eye I see Lello's daughters Alice and Simona, who work here as waitresses, giggling at my failure, which is fine. I've just made pizza alongside a real Neapolitan pro. Nothing can spoil this.
It is not until the next day, my last in Naples, that I realize my hero worship goes beyond the pizzaioli; in my pizza fetish, there is a familial connection to this city. Stopping in at its oldest shop, Pizzeria Port'Alba, opened in 1830, I order a simple portafoglio, its blistered, springy crust folded over the delectable topping. Devouring the saucy slice as I stroll, I let myself disappear into the crowd and think about how my great-grandfather might have ordered pizza from this very same place. Going in for my last bite, I imagine, for one moment, that I am him.