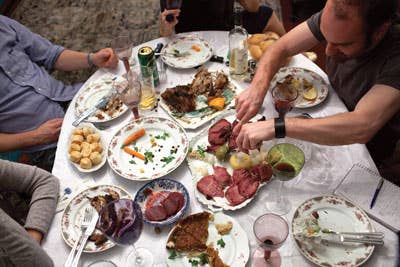 Travel
The Guide: Bucharest and Budapest
A guide to where to stay and where to eat in Bucharest, Romania and Budapest, Hungary.
Dinner for two with drinks and tip
Inexpensive Under $10
Moderate $10-$60
Expensive Over $60
Where to Stay
Rembrandt Hotel Smardan 11 (40/21/313-9315; rembrandt.ro). Rates: $110-$150 double.
A small, well-run boutique hotel, with spacious rooms and all the necessary AV features (wi-fi/cable), in the happening heart of the old city.
Where to Eat
Caru' cu bere Strada Stavropoleos 5 (40/21/313-7560; carucubere.ro). Moderate.
This Gothic cathedral of a beer hall, complete with dark wood, frescoes, and freshly brewed pilsner, serves some of the best grilled mici sausage and lamb pastrama in Bucharest.
Where to Stay
Continental Hotel Zara Dohany utca 42-44 (36/1/815-1000; continentalhotelzara.com). Doubles from $77.
This new hotel brings luxury to Budapest's Jewish quarter with an expansive marble lobby (formerly a bathhouse), flat-screen TVs, a fitness center, and a rooftop lawn with lounge chairs.
Where to Eat
Cafe Noe Wesselenyi 13 (36/1/787-3842; torta.hu). Inexpensive.
This coffee shop and bakery serves what is widely reputed to be the finest flodni in all of Hungary, along with coffees, cakes, and other pastries.
Hanna Dob utca 35 (36/1/342-1072 ). Moderate.
A community-owned institution for more than half a century, this glatt kosher restaurant serves Yiddish standards like noodle kugel and cholent, as well as kosher Hungarian specialties like beef goulash. Don't miss the kosher butcher and sausage maker located next to the rear entrance of the courtyard.
Fulemule Kofarago utca 5 (36/1/266-7947; fulemule.hu). Moderate.
One of the finest Jewish restaurant experiences in the world, with highlights like "Jewish Egg" (chopped egg with goose liver), cholent with smoked meat, and matzo balls in goose soup.