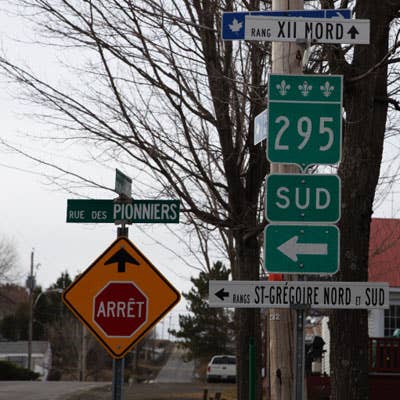 Travel
The Guide: Quebec
Dinner for two with drinks and tip Inexpensive Under $20 Moderate $20-$80 Expensive Over $80
Air Canada flies to Montreal and Quebec City. From New York, Chicago, or Boston, try Porter Air, a short-haul airline that offers business-class service at economy fares. Auclair, a village in the Bas-St-Laurent region, is about a three-hour drive from Quebec City and six hours from Montreal. Bas-St-Laurent is home to more trees than people; though tourism is limited, as are hotel and restaurant options, you'll find some excellent artisanal products to sample.
Auberge du Chemin Faisant
12 Vieux chemin, Cabano (877/954-9342; cheminfaisant.qc.ca). Rates: $86-$136 double. Check into this charming bed-and-breakfast run by chef Hugues Massey and his wife, Liette Fortin. If you're lucky, they might serve you a breakfast of Hugues's perfectly poached egg over maple-smoked mackerel. Dinner must be reserved in advance.
145 route du Vieux Moulin, Auclair (418/899-2825; domaineacer.com). Moderate. Before you purchase the fine maple products made here and sold in the gift shop, tour the maple syrup museum to get a sense of the history and science behind the syrup-making process.
Érabliere Gilles et Nicole Chouinard
77 chemin Principal, St-Juste-du-Lac (418/899-1770). Moderate. For a taste of tradition, visit Nicole and Gilles Chouinard's sugar shack, just a few minutes outside of Auclair. You'll get a full meal with all the fixings for $25.
Fou du Cochon et Scie
1660 rue de la Ferme, RR3, La Pocatiere (418/856-3309; fouducochon.com). Inexpensive. En route to Auclair, buy some organic dry-cured sausages from Nathalie Joannette and Samuel Gaudet at their specialty food store, Fou du cochon et Scie. The one made with hazelnuts, cured in a maple-wood cold room, is a standout.
Fromagerie Le Detour
100 route Transcanadienne, Notre-Dame-du-Lac (418/899-7000; fromagerieledetour.ca). Moderate. Fromagerie Le Detour is the region's best cheese maker and the winner of many awards. Grey Owl, an ash-ripened goat cheese, is just one of the many excellent options.
Poissonnerie Lauzier
57 avenue Morel, Kamouraska (418/492-7988; kamouraska.ca). Moderate. Stop at Poissonnerie Lauzier in Kamouraska for a sandwich of sturgeon or eel; both are fished just minutes away in the St. Lawrence River and smoked over maple wood.
This article first appeared in Saveur, Issue #136