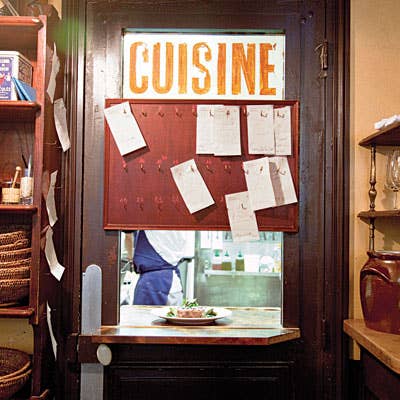 Travel
The New Bistro
A new generation of French bistros is emerging, with more innovative ingredients like coriander and lemongrass.
In 1992, news of a just-opened restaurant with an exasperatingly remote location in the 14th arrondissement went through the city like a shot. A young chef, Yves Camdeborde, who'd formerly cooked at the Hotel de Crillon under the influential chef Christian Constant, had gone out on his own and was doing a superb new take on bistro fare by riffing on the cooking of his home turf, the Bearn region in France's southwest. It's name: La Regalade.
So I went, and what I discovered was terrific cuisine de terroir, with a twist. The meal started with a delicious, help-yourself terrine de campagne (country-style pate), an epic bistro dish if ever there was one. But then there were bright, light dishes that I'd never seen on a bistro menu: a brilliant pissaladiere of tuna and black olives; red mullet filets sauteed with fried thyme, basil, and tarragon on a bed of polenta. While some dishes, like duck hearts with oyster mushrooms, were classically southwestern, others were modern and refined, like the tender chunks of veal that came in a delicate jus with tiny ravioli and crunchy steamed vegetables.
La Regalade became a huge hit; Camdeborde was clearly on to something, and he wasn't the only one. All over Paris, other Christian Constant alumni, including Eric Frechon at La Verriere (now closed) and Thierry Breton at Chez Michel, were doing similarly inventive modern bistro cooking, and within a few years chefs like Christophe Beaufront at L'Avant Gout and Thierry Blanqui at Le Beurre Noisette were joining the fray. Like their contemporaries abroad—in London's East End, say, or Brooklyn, New York—they opened casual places in parts of the city where rents were cheap and they could afford to take risks. "What distinguished the new bistro movement is that these young chefs were professionally trained," Constant told me at the time. They applied that training to humble ingredients and unfussy dishes, and their reasonably priced menus made a welcome addition to Paris dining during the economic recession of the 1990s.
Chef Guy Savoy also opened a constellation of trendsetting "nouvelle generation" bistros in the 1980s and 1990s, including La Butte Chaillot, Le Bistrot de l'Étoile, and the wildly popular Les Bouquinistes in St-Germain-des-Pres. "The new bistros are one of the best things nouvelle cuisine left in its wake," Savoy said when I interviewed him recently. "Now there's a second generation of modern bistro chefs. They call their cooking la bistronomie, and it's more creative than ever. You find lemongrass and coriander in their cooking as often as you do thyme or chervil." Like those who opened the original bistros in the 19th century, they're using ingredients and ideas from far afield—not only from other regions of France, but also from other countries. Meanwhile, La Regalade remains excellent and innovative under chef Bruno Doucet, who bought it when Camdeborde sold out. Doucet's even opened a second bistro, the outstanding La Regalade Saint-Honore—this time, in the heart of Paris.