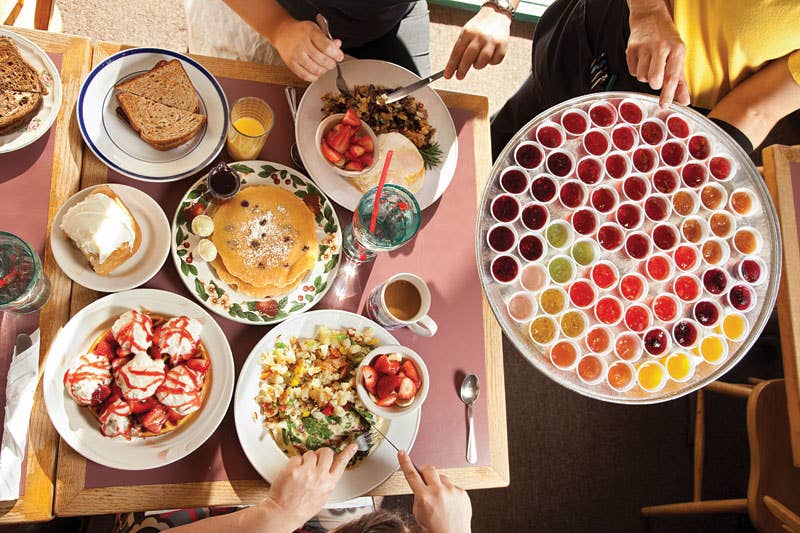 Travel
Breakfast of Champions, Vegas Style
Aim for the spaghetti at Rao's; settle gladly for the hash browns at Sao Paulo Cafe
My first trip to Vegas brought me west with the promise of easy money and, more enticing still, a cache of secret spaghetti. The money, or so I flattered myself, was to be had at the gaming tables of the Rio Casino, where the World Series of Poker was held that year. I wasn't a great player, but poker is a game even a bad player can win if he finds one worse (or more intoxicated) than himself.
The spaghetti, though, was what prompted the trip. Thanks to my run as the editor of a New York City restaurant blog, I had access to the city's best tables. But there was one that was still forbidden to me: Rao's, the legendary East Harlem red-sauce joint famous for refusing reservations to anyone other than its favored clientele. Rao's is the special preserve of politicians, moguls, and mobsters, all of whom rank far higher in the real world than bloggers. It made perfect sense that I should be excluded. I would have excluded me. It made me sad, though, because I grew up in Atlantic City eating exactly the kind of old-school Italian-American food that Rao's was said to serve so peerlessly. Would I ever get to eat it? I would indeed; I would do so in Las Vegas.
I meant to salve the wound of my exclusion with a sensualistic surrogate. A Rao's had opened in Caesars Palace, and I was determined to feed on veal chops and shrimp fra diavolo purchased with my poker winnings. The restaurant was said to be an exact simulacrum of the original, down to the last signed photo of Frankie Valli.
Rao's hovered over my mind during the many hours I sat at the gaming tables. Patience and self-control kept me from playing weak cards or being drawn into risky bets. I simply waited until a near-unbeatable hand came my way, and hoped that one of the Gen-Y dopes in sunglasses and headphones, their hands atwitter with aggression and the rhythms of Nickelback, bet into me. The process was long and wearying, and part of the discipline was not to play tired or angry. So every five or six hours I would get up and find, to my delight, that I was hungry. And no matter the time of day or night, I would walk over to Sao Paulo Cafe, the Rio's coffee shop, and order double hash browns, juice, and either bacon or sausage, depending on my mood. While I ate, I would look at a printout of the Rao's menu that I kept in my pocket.
Las Vegas is a city of spectacular coffee shops, from the off-Strip gem Mary's Hash House to the Tropical Breeze Cafe in the Flamingo hotel, where short-order cooking is an art form. The hash browns at the Sao Paulo deserve special notice. Like all fetishists, I pay inordinate attention to technique, and the versions I encountered there were flawless. Unlike the heavy ones forced on me in New York, these were loose white shreds, weightless and massless, seemingly more at home in superstring theory than on a griddle. They became evanescent vehicles for salt, frying oil, and their own textural metamorphosis. And, oh, what texture! Their surface was a perfect crust, ranging from Florentine gold in the middle to mahogany on the ragged edge. The tender inner shreds, only touched by heat, were nestled safely inside, all steam and innocence. I mixed up the crunchy edges with the soft middle and forked hungrily in, chasing each bite with orange juice. Then I was ready to play again.
Three days passed in this hypnotic routine. It was a welcome fugue state, the most relaxed I've ever been. I had only two things to do, and they were totally absorbing—play and eat. On the third day, I found myself at the table with people with things on their mind besides veal chops, and my concentration, aided by some timely queens and jacks, allowed me to win. I left for Rao's with $1,200 in my pocket and an empty stomach.
What was the meal like? It was good, very good: I was wowed by the succulence of the veal, the vibrancy of the tomatoes. But I still want to go to the original Rao's. And looking back, the meals that stand out from the trip were the unplanned ones at the Sao Paulo Cafe, roughly 50 carpeted paces from the game floor. That was a true Las Vegas restaurant experience, as satisfying as Rao's and, in its way, as inimitable.
Sao Paulo Cafe
Rio Las Vegas
3700 West Flamingo Road
Las Vegas, NV 89103
702/777-7923