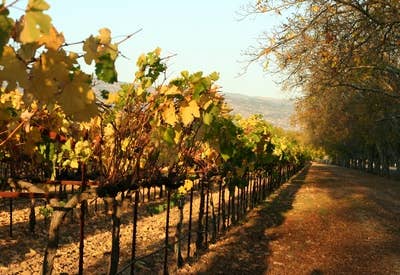 Drinks
5 Milestones in California Wine
The history of winemaking in California spans nearly a quarter of a millennium. From monks to wonks, here are five defining moments in the making of an industry.
1770s: The Mission Grape
Spanish missionaries plant California's first grapes and used them to make sacramental wine.
1848: The Gold Rush
The discovery of gold in 1848 brings 300,000 new residents to California, increasing the demand for alcohol. Between 1856 and 1858, the number of grapevines in California more than doubles.
1938: A New Standard
The originator of the classic barrel-aged Napa style, Andre Tchelistcheff begins his 35-year career at Beaulieu Vineyards. He introduces European winemaking practices and standards and begins to develop the world-class cabernets for which the state is now famous.
1976: The Judgment of Paris
A blind tasting of new-world cabernets and chardonnays against red Bordeaux and white Burgundies is organized. It's assumed the nine French judges will vote French. The results shock the world: California wines top both red and white tastings, and their popularity and prestige skyrocket.
1978: Wine Ratings
Critic Robert Parker launches the Wine Advocate newsletter, assigning individual wines a score between 50 and 100. Parker's ratings drive demand for his preferred style of California wine—big, bold, and heavily oaked.