9 Great Wines from Long Island, New York
The sea breezes of Long Island keep temperatures moderate and late frosts at bay, resulting in fresh, zingy wines that strike a good balance between earthy, European wines and the big fruit tastes of the West Coast.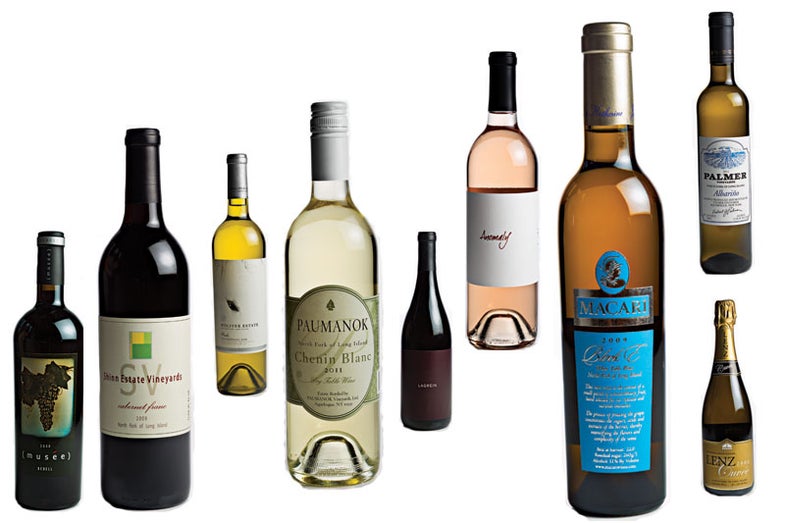 There are hail, humidity, and hurricanes in bad years—not to mention fruit-loving deer and birds. And then there's the high cost of land in New York City's summer playground. But since 1973, when cookbook authors Louisa and Alex Hargrave planted Long Island's first vinifera vines, vineyards have spread across local farmland where once potatoes and other crops grew. The wines, from crisp chenin blanc to assertive reds, share a regional style. "It's not earth-driven, rustic, Old World, and it's not the fruit bombs of the West Coast. We're in between," says Mike Mraz, whose North Fork Table and Inn offers many Long Island bottles. "Balance is a hallmark." Jutting eastward into the Atlantic, the Island's North and South Forks, where the vineyards are, benefit from sea breezes that keep temperatures moderate, protecting grapes from late frost and overripening. What results are fresh, zingy wines that go great with seafood and other light dishes.
Bedell Musee 2008 ($75) Thirty-year-old vines—some of Long Island's most mature—yield the robust grapes for this broad-shouldered merlot-based blend. With oaky tannins and rich fruit, it's one of the Island's biggest wines, but it's not flabby: Dark currant and coffee flavors hang on a briny mineral frame. Try it with steak, or put it away to mellow with age.
Shinn Cabernet Franc 2009 ($29) Exhibiting none of the green pepper flavors that can mar cabernet franc, this light but lush red with spiced orange and cherry notes is a perfect partner for duck. If you can find any of the lauded 2007 vintage, try that too; it's a more complex wine from Long Island's best year in recent memory.
Wolffer "Perle" Chardonnay 2010 ($30) This fragrant, food-friendly chardonnay comes from a winery set in a grand Tuscan-style chateau amid vineyards on a former Hamptons potato field. Its vivacious acidity and touch of pleasing funkiness balanced by tropical fruit and maple candy flavors would go well with salmon in cream sauce, or another rich fish dish.
Paumanok Chenin Blanc 2011 ($25) A family-run winery in rustic digs at the base of the North Fork produces this wonderful aperitif wine. A powdery, dried apricot aroma yields to Meyer lemon and melon flavors, which, in turn, resolve in a brisk minerality. It's on the other end of the spectrum but equally as good as Paumanok's smoky, chocolatey red blend, Assemblage.
Channing Daughters Lagrein 2010 ($30) From Long Island's true experimentalist winemaker comes a rare varietal from the Alto Adige, in northeastern Italy. This red exhibits earthy, spicy personality, and a fine balance between chewy tannins and luscious blackberry fruit. Also try their funky blaufrankisch, and Envelope, their chardonnay-gewurztraminer-malvasia bianca blend, filled with apricot and orange peel flavors.
Anthony Nappa Anomaly 2011 ($20) Though pinot noir shows promise on Long Island (look for bottles from McCall Wines), it is not widely grown because it's prone to rot. Veteran Long Island winemaker Anthony Nappa sources grapes from throughout New York State for this "white" pinot noir, made by separating the grape juice from its dark red skins early in fermentation. It tastes like tart strawberries wrapped in flowers.
Macari Block E Viognier 2009; 375 ml. ($40) In colder climates, ice wine is made with grapes frozen on the vine. This knockout rendition comes from grapes that are harvested and then put into cold storage for three months so that the water in them freezes, concentrating the sweet, rich solids in the grape must that is pressed from the fruit. The resulting dessert wine is full of bright, grilled pineapple, mango, and honey notes.
Palmer Albariño 2011; 500 ml. ($25) Winemaker Miguel Martin plants just a bit of this white variety from his native Spain and sells it in half-liter bottles. Would that there were more of it: Peachy, floral, and easygoing with a lovely crispness, it's the perfect match for Long Island clams.
Lenz Cuvee 2006 ($30) A pioneer winery of the North Fork, Lenz subjects 100 percent pinot noir grapes to traditional French champagne-making methods to produce a sparkling wine that tastes like it could have come from epernay. It's nice and elegant, with soft, small, persistent bubbles that make it perfect for a sophisticated celebratory meal.
Back to 37 Great American Wines »
See nine great wines from the Virginia Mountains »
See nine great wines from the Texas Hills and Plains »