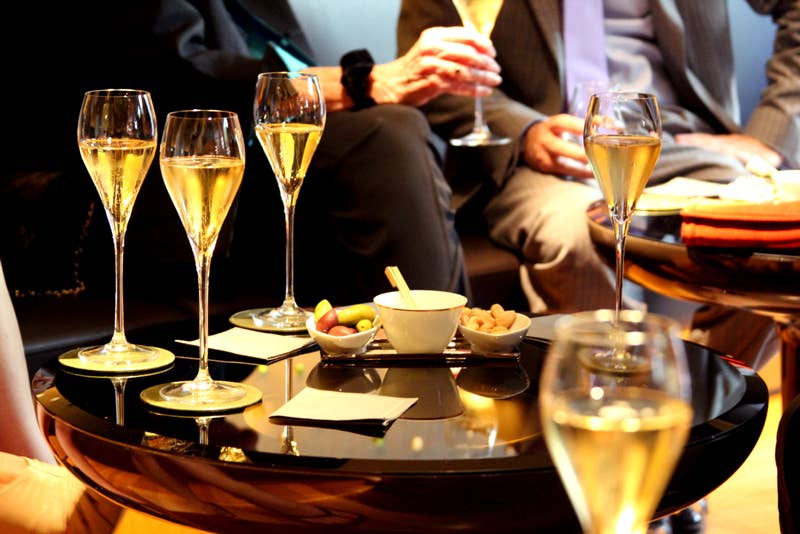 Drinks
3 Perfect Champagnes for Thanksgiving
A festive, perfectly dry sparkler is the ideal pairing for any dish on the Thanksgiving table
Hands down, Thanksgiving is my favorite holiday of the year. The location and turkey-styles of the celebration may have changed from year to year—baked turkey in the oven at my grandmother's beach house, deep-fried turkey at my uncle's farm—but no matter where we were or what we ate, delicious smells and sounds of laughter filled the day from the moment the cooking started in the morning.
Now that I host my own feast, I try to recreate the atmosphere of my childhood Thanksgivings—it usually goes well, but I always wind up thinking way too hard about what wines to serve. Still, regardless of my pairings for stuffing or Brussels sprouts, when it comes down to sitting at the table, everyone just eats and drinks what they want, all my worrying unwarranted. So this year, I plan to skip the precise pairings and go with a universal favorite: Champagne.
Even though it's usually popped for special occasions, Champagne is a supremely great wine to pair with food, and—particularly great for Thanksgiving—its sparkling style transitions easily among different flavors and textures. Bottles may vary in style, body, and sweetness, but a good, dry Brut goes nicely with almost anything. Typically high in acid and filled with soft bubbles, it can be tart and refreshing, a great palate cleanser between bites. Plus, you won't have to worry about opening a bottle and not finishing it—at least, not if you have a crowd like mine. I'll be topping off everyone's bubbles long before they go flat.
3 PERFECT THANKSGIVING CHAMPAGNES
Roederer Blanc de Blancs 2005, $90
This wine from the maker of Cristal is soft and elegant, and is made from 100% chardonnay grapes. Its aromas and flavors are clean, bright, and fruity, with hints of salty-sweet melon, peaches, and finally citrus on the finish. Gorgeous as an aperitif, it would be perfect to sip on with your family and friends while the turkey finishes cooking.
Taittinger Brut Millesime 2005, $70
The 2005 Brut Millesime is a great transitional wine; medium-bodied yet refreshing, it is great as a glass to toast the beginning of the celebration, and then moves easily into the meal as you begin to load your plates and gather around the table. It has a rich quality, with an impressive depth of flavor, and I love the hint of tarte tatin on the finish.
Bollinger NV Special Cuvee Brut, $50
Bollinger is known for its heavier-bodied Champagnes, with an emphasis on pinot noir as the primary grape in its blends. This bottle isn't my favorite Champagne to drink when it's on its own, but it comes brilliantly to life with all kinds of food, from richer fish dishes, to pastas, to meats: it would make an excellent pairing with the variety of foods on your plate, without overwhelming your palate. I can't wait to sip it alongside my turkey and oyster stuffing.