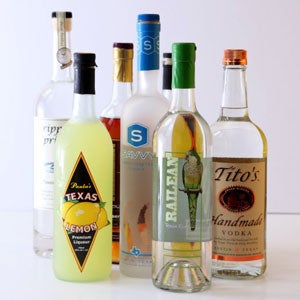 Moonshine might be the only homemade spirit that most people would associate with Texas, but fortunately a significant renaissance of micro distilleries is taking place in the state, one that owes its success to the visionary handcrafters who bravely stand by their spirits. Undaunted by mass-manufacturing contemporaries, these distillers exhibit a confident, Lone Star swagger, an anchored faith in quality, and a belief in sticking to what works—even if that means eschewing newfangled flavors and hyped-up marketing. Here, SAVEUR spotlights five pioneers in the world of Texas tipples.
**VODKA
**
"To me, Texas vodka should be smooth going down—nice and easy," says the founder of Tito's Handmade Vodka, Burt "Tito" Butler Beveridge II (he's well acquainted with drink jokes). It's been over 20 years since Beveridge, a former geologist and self-proclaimed "MacGyver of sorts", established the state's first and oldest legal distillery, in Austin. Beveridge's Mockingbird Distillery pays homage to a time-honored technique that yields a pristine vodka stripped of invasive phenols and esters. It's a feat that was confirmed as notable by the Double Gold Medal the vodka received at the 2001 World Spirits Competition, in San Francisco.
Tito's set the stage for competitors; among them is Dripping Springs Vodka_, _made by the master distiller Gary Kelleher and his two brothers, all of whom are great-great-grandsons of a vodka crafter who once served the drink to Russian tsars. With access to pure Hill Country spring water—"60 percent of the flavor profile of any vodka is water," Kelleher claims—Dripping Springs fuses an old-world format (down to the copper stills that house the spirit) with the ethics of a true micro distillery. "We make our vodka in tiny, tiny, 50-gallon batches, so we can control the quality all the way through," Kelleher says.
**RUM
**
A first-level sommelier, Kelly Railean opened a distillery that sits on the shore of Galveston Bay. "There's something about rum and sailing that makes them just go together," she says. It's a thought confirmed by their beloved mascot, a lime green parakeet perched atop every Railean's Rum bottle, which looks as if it would be equally comfortable on the shoulders of a swashbuckling pirate. The rum itself, aged in charred barrels of American oak, is a dry and flavorful concoction, created from a blend of molasses, sugarcane, butter, and yeast. "Every step of the procedure is truly done by hand," Railean says. "We don't purchase neutral spirits and redistill, and that's what sets us apart."
**LIQUEUR
**
When Paula Angerstein, a former computer programmer, ditched microchips for micro distilleries in 2000, she had no idea what kind of industry she was stepping into. As she attempted to introduce Texans to her version of limoncello, a drink she'd become smitten with on a trip to Italy, she realized that a renaming was in order. "We knew that there was a set of people who grooved on a product made in Texas," she says, explaining the birth of Paula's Texas Orange and Lemon_. _Her liqueur, extracted from the tangy zests, not the juices, of oranges and lemons, shares shelf space with the likes of Cointreau and Grand Marnier, and it made a citrusy splash in the massive margarita atmosphere that dominates the state. "We made it 80 proof," she says, "because part of what you get when you order a top-shelf margarita, in addition to the quality, is a higher zing."
**BOURBON WHISKEY
**
Though their dusky, star-embossed bottles will not hit store shelves till 2011, production is well under way at the Garrison Brothers distillery, in the heart of Texas Hill Country. Crafted from corn that's raised in the Texas Panhandle, the whiskey is laced with tones of vanilla and butterscotch and promises to be "the smoothest bourbon you've ever tasted", according to founder Dan Garrison, who's been immersed in all things whiskey since 2006, when he toured a host of distilleries across Kentucky, including Maker's Mark and Four Roses, scooping up tricks of the trade. "We're like an enormous gourmet kitchen," Garrison says of his operation, "from corn to cork."