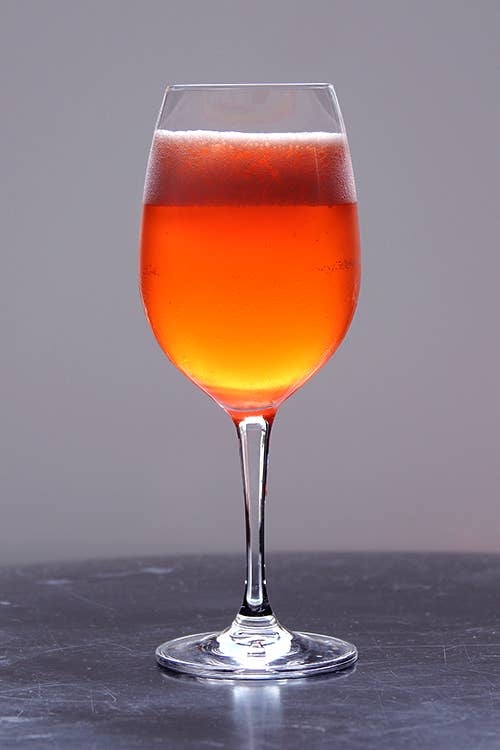 Drinks
Friday Cocktails: Aperol Fizz
This frothy, tangerine-colored cocktail is light, bubbly and a little bitter—perfect for summertime sipping.
Summer 2013 has, so far, been the summer of Campari for me: At the end of a hot, humid day, it's become my habit to get home, pour a long, bright-red glug over ice, top it off with plenty of sparkling seltzer, and attempt to sip away the heat. The liquor's bracing bitterness, combined with the seltzer's snappy little bubbles, is incredibly refreshing.
Here's the thing about summertime drinking, though: Sometimes, you just don't want to wait until evening. From hours-long brunches to al fresco picnics to rooftop barbecues, the warmest of seasons presents plenty of opportunities to break out the cocktail shaker well before 5 p.m. And when you're imbibing during the day—often under the hot sun—you need a sipper that's not too heavy. Fortunately for Campari-lovers like me, there's Aperol, Campari's kid cousin. This pale, tangerine-colored liquor boasts a similar flavor profile to my favorite aperitif, with sharp and sweet notes from ingredients such as bitter orange and rhubarb. But with only half the alcohol content, drinks made with Aperol tend to be super-light.
That's certainly an accurate descriptor of the Aperol Fizz from San Francisco's Cotogna. Made like a true fizz, with egg white shaken along with the Aperol, fresh lemon juice, and simple syrup, the cocktail develops a creamy, meringue-like layer of orange fluff on top, accentuated by a cooling dose of seltzer and a bright, acidic strip of grapefruit zest tossed in at the very end. Equal measures sweet and bitter, the feathery lightness of the drink makes it ideal for sipping at any time of day—as I plan to do until the summer heat finally fades.