Friday Cocktails: Hot Chai Toddy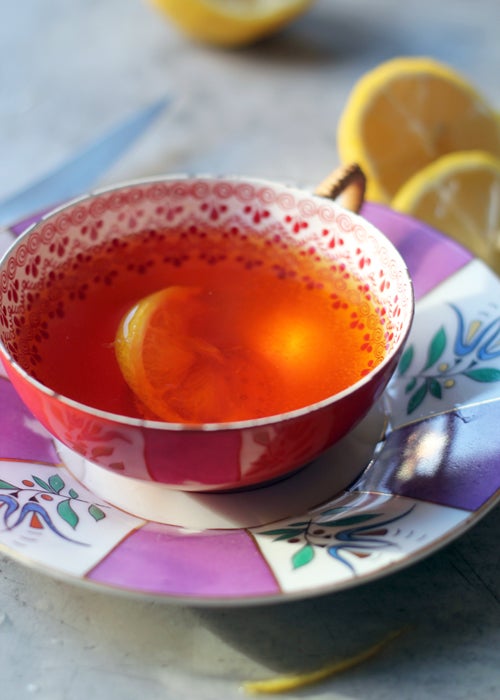 This past Christmas, I made the trip home to my parents' house in New Hampshire with my boyfriend Bryan in tow. My sister flew in from California to meet us, and we all enjoyed a quiet few days: holiday movie marathons with my high school-age brother, and cooking big, decadent meals with my mother. I guess it's bound to happen when you return to the house you grew up in, but soon enough we were starting to get antsy. My sister, Bryan, and I were all itching for a few cocktails, but the town's lone bar, luckily walking distance from my parents' house, was unluckily closed for the holidays. Mom and Dad aren't really drinkers, so the options at home were pretty slim—our choices were vodka or vodka, so we made do with beer, and the occasional virgin hot cider.
The night after our ill-fated foray to the bar, while making a Christmas dessert that called for a splash of bourbon, my mom appeared from the basement with a big bottle of the stuff—apparently she'd confiscated it from my younger brother and his friends, and forgot about the evidence until just that moment. "Great!" my sister exclaimed. "We can make hot toddies—all we need is lemon, sugar, and clove." But fate was not yet on our side: we couldn't find whole cloves anywhere in the pantry. Bryan, a bartender with great instincts, suggested we use chai-spiced black tea instead, which ended up being even more perfect than we'd expected: the warm spices in chai echo the flavor of a typical clove-infused toddy, but the addition of cinnamon, ginger, cardamom, nutmeg, and flinty black pepper, coupled with the tannic tang of the tea, made the warming drink even more appealing. He made us each a big mug of the stuff, and we all agreed that this was the only way we'd make hot toddies from now on.