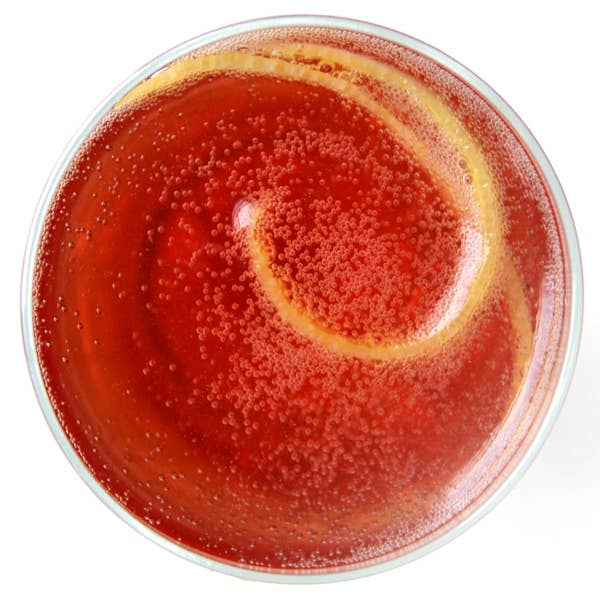 Drinks
Friday Cocktails: Fizzy Lifting Drink
When I was young, the quickest way for me to get into a ravenous state of gastronomic longing was to watch Willy Wonka and the Chocolate Factory, the 1971 fantasy musical about a lonely chocolatier and the hapless children he squired through a tour of his factory. From a chocolate river, to chewing gum that made you feel like you'd eaten a full roast-beef dinner, to wallpaper that tasted like fruit (sadly, despite my checking for it, my parents' Virginia home did not have this feature), the wonders of Willy Wonka's world sent me spiraling into fantasy.
But there was always one scene that made my brow furrow: Our hero Charlie and his grandfather sneak away from the group to try a sip of Fizzy Lifting Drink, a soda that they were warned not to sample—and with good reason, as its effervescent effect leads them within moments of a terrifying death by razor-sharp fan. Still, the shining sip looks like it's worth it, and even though we're never told what the soda tastes like, I've always wanted a sip.
On a recent trip to Charleston, South Carolina, I came the closest I may ever get: Christian Broder, of Social Restaurant and Wine Bar on East Bay Street, served me his take on fizzy lifting drink, a pink concoction of fruity creme de cassis and gingery Domain de Canton liqueur, topped with a generous pour of Champagne. Light, sweet, and spicy, it may not have made me float up to the ceiling in reality, but it certainly lifted me up in spirit—and satiated the long-standing desires of my inner child, to boot.