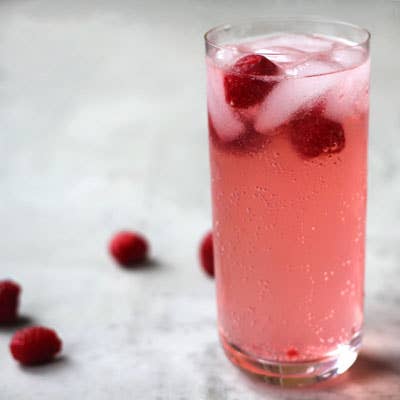 Drinks
Friday Cocktails: Raspberry-Rose Collins
Throughout college and my early twenties, I was pretty much clueless about the differences in gins; to me, it was just another clear liquor that imparted a slight flavor to my tonic in bars. Gradually, as I've slowly initiated myself into cocktail culture, I've become aware that there are extreme variations in the flavor profiles of different kinds of gin and how those flavors affect the final products of the cocktails in which they're mixed.
Each brand of gin distinguishes itself through its own unique blend of botanicals, flavors added during the distillation process. Usually the juniper berry (which lends its name to the spirit) is the dominant note, and many of the more famous brands also have a healthy dose of spice and citrus. When I tasted Nolet's Silver Dry Gin, a new spirit to the market, I fell for it precisely because it was so starkly different from everything I've had before. Billing itself as "the new face of gin," it delivers: it's an exquisitely balanced liquor that would appeal to even the most gin-averse cocktail drinker.
Fruit-forward and floral, Nolet's Silver tastes fresh and modern. Each of its component botanicals is distilled separately with the neutral base, then these single-note infusions are blended together until the right balance is found. Turkish rose, peach, and raspberry are the notes that shine through, making it an exciting gin for warm weather, whether mixed in cocktails or on its own on ice with a little seltzer. Imagine sweeping through your local greenmarket, snapping up all the delicious berries and mint you can find, and mixing up a cocktail that leaves you with a little hint of rose on the finish. This cocktail, with its muddled raspberries and tart lemon, is a beautiful foil for the floral gin, with a hint of rose on the finish. Plus, it's effortlessly easy to make, a great choice for a lazy, sunny afternoon.