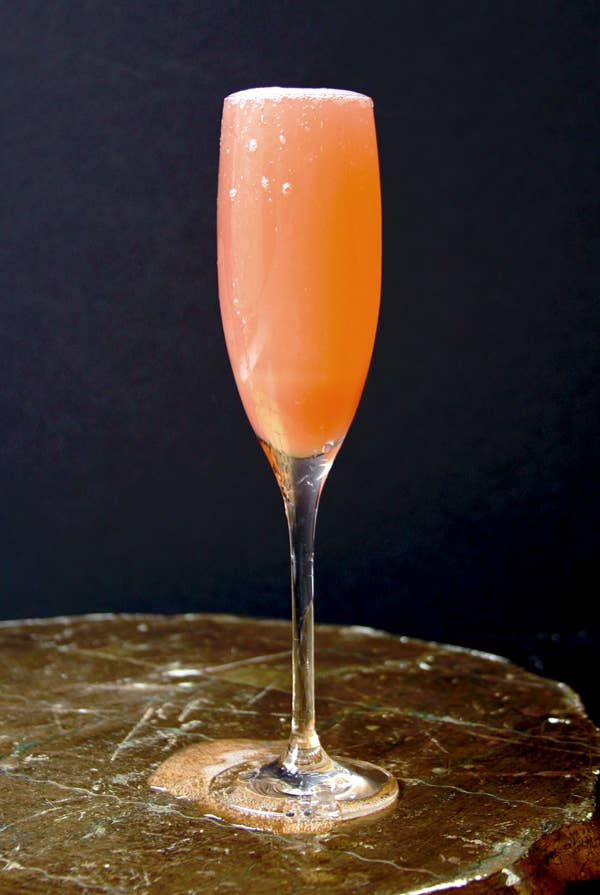 Drinks
Friday Cocktails: The Rhubarb Fizz
Cambridge mainstay Fitzbillies has always been one of my favorite stops when I'm in England. I look forward to the reliable tea and Chelsea buns they're famous for, but on my most recent visit I noticed that the university town fixture has somehow changed—newer, fresher, bigger, brighter. I soon learned that Fitzbillies has, in fact, enjoyed a recent growth spurt, thanks to husband and wife team Tim Hayward and Alison Wright, who took over in 2011 and added an imaginative dinner menu with the help of London chef Rosie Sykes.
When I sat down to dinner, I was greeted with a basket of cheese straws and the new house cocktail, the rhubarb fizz, a compelling combination of rhubarb syrup and sparkling wine. Spicy and nuanced, I asked chef Sykes to confide the syrup's ingredients. "Cardamom and vanilla," she said. "I've been on a bit of a cardamom kick lately." She infuses additional flavor into the syrup by simmering the rhubarb in a spicy ginger beer.
Now that I'm back home, and with one of the first edible harbingers of warm weather finally showing up at my local farmer's market, I know what I'll be drinking for the next few weeks.