Friday Cocktails: Spicy Shiso Smash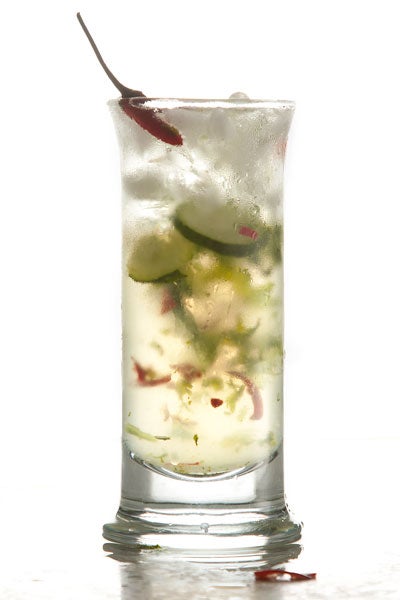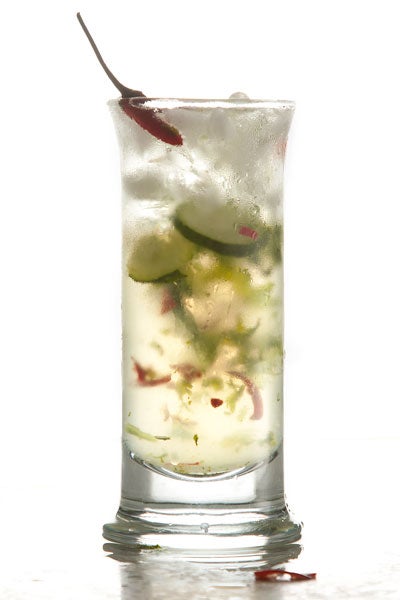 It was just this past winter that I had my first taste of shiso (also known as perilla). I was at one of my favorite Thai restaurants, and the delicately thin, jagged-edged leaves were being used as vessels for bites of coconut and chile-studded fluke ceviche. With my date watching in confusion, I couldn't help but grin and dance in my chair as the flavor of that leaf exploded in a pop of fresh spicy flavor. It was almost like basil, hinting at mint, and yet unlike anything I'd had before. I was instantly in love. As we ventured into spring, I planted a little shiso plant in my kitchen window box, whose progress I've been proudly noting each morning. Lucky for me, it's now growing just as fast as I'm discovering new ways to use it: slivered and tossed into salad, garnishing a spicy peanut pasta dish, infused into limeade, nibbled by the whole leaf, and mixed into cocktails.
Muddled with a bit of spicy Thai red chile and slices of cooling cucumber, the shiso leaves from my window box turn into a refreshing and festive cocktail. Served over crushed ice with a bit of simple syrup, lime juice, white rum, and topped off with plenty of seltzer, it's my new favorite sip to serve for summer. I've been mixing mine with Denizen rum, which, though perfectly clear, is blended from filtered aged rums, giving it a subtly more complex and full flavor.