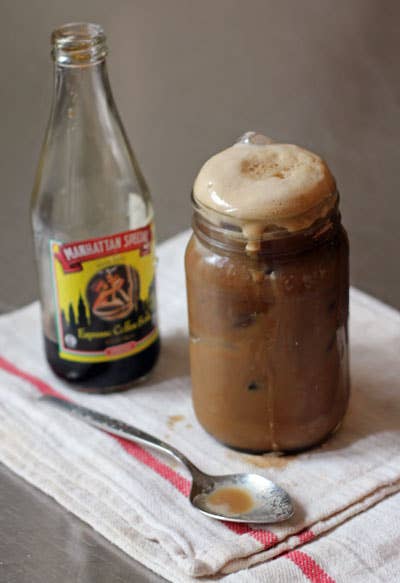 Drinks
Friday Cocktails: The Manhattan Extra Special
Last Sunday, when the weather finally warmed up enough to warrant the switch from long sleeves to short, my friends and I were faced with a seasonal dilemma. A late and lively Saturday night had taken a toll on our present moods and we needed the perfect combination of hair-of-the-dog, caffeine, and, most importantly, ice to sip on while camping out in the park, basking in the sun that we had been missing for so many months. We toyed with the idea of making a pitcher of iced coffee and a round of whisky sours (fortunately, it was after 12pm) but then thought better of that flavor combination.
Here in the SAVEUR test kitchen, we may have stumbled upon the answer. Faced with a fridge stocked with Manhattan Special, a caffeinated, espresso-flavored soda that's something of a cult beverage to certain SAVEUR staffers, we pulled together something genius in its simplicity: A glass of Manhattan Special, a generous splash of whiskey, and just enough of a drizzle of half & half to lend the drink a creamy flavor.
Leisurely sipping my spiked iced coffee, I marveled at the fact that despite the carbonation and dash of half-and-half, the drink only got better as the ice melted. Next time I'm faced with a sublime late-spring afternoon and need something perfect to sip while I sit in the sun, I know what I'm making.