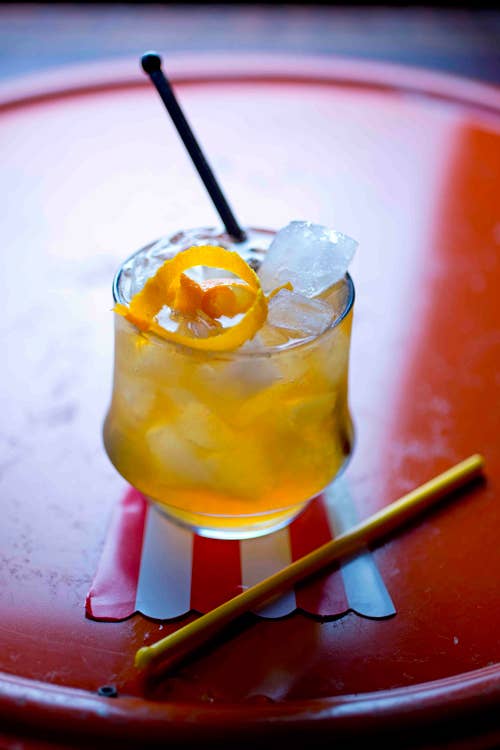 Drinks
Friday Cocktails: The Baltimore Bang
Having grown up in Cincinnati in the 1980s, I watched my beloved Bengals make it to the Super Bowl twice, in 1982 and 1989. As you might recall, they lost (very narrowly, mind you) to Joe Montana and his San Francisco 49ers both times. Like most football fans, I am irrationally belligerent toward rivals, so the entire experience left me with decades of bitterness and anger directed at the 49ers, the city of San Francisco, the colors scarlet and gold, streetcars, Better Cheddar crackers (with their cursed "sourdough baked right in"), and even—taking a very homonymic view of things—the state of Montana itself.
Of course, time heals all wounds. Eventually I left Cincinnati and moved to New Orleans, where I became (and remain, despite now living in the land of Giants and Jets) a dedicated Saints fan. And though my ill feelings toward the 49ers had all but vanished, they came back full force two years ago when, in the divisional playoffs, they upset the Saints 36 to 32 after an infuriating last-second touchdown pass (so improbable that is has come to be known simply as "The Grab") from quarterback Alex Smith to Vernon Davis.
And so it is thanks to you, Mr. Davis, that I will spend this Super Bowl Sunday, during which the 49ers are playing, rooting for your opponents, the Baltimore Ravens. And I will do so while sipping a Charm City cocktail: my own variation on the Baltimore Bang, a long-forgotten whiskey drink reintroduced a few years back by award-winning mixologist Derek Smith of D.C.'s Columbia Room. The cocktail perfectly encapsulates my attitude toward the whole affair: its cognac (instead of the more traditional apricot brandy) a shout out to the bottle left, until recently, on Edgar Allan Poe's Baltimore gravesite by an unknown admirer on his birthday each year (attention football-hating English majors: the Ravens are named after his famous poem); its sour lemon a nod to the sour feelings I still harbor toward the City by the Bay; its high alcohol content a necessary coping device should the 49ers emerge victorious.
Either way, I'll be toasting to next year, when I hope to be downing Sazeracs while watching the Saints march toward victory, or devouring Cincinnati's famous chocolate-infused chili as the Bengals mark their triumphant return to Super Bowl stardom. And should the stars align and both teams win their respective divisions, why not both?