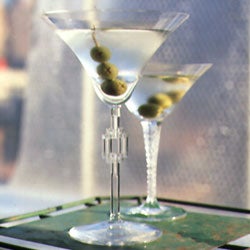 When Ernest Hemingway "liberated" the bar at L'Hotel Ritz in Paris in 1944, he bought martinis for everybody. Even in peacetime, gin lovers consider this a perfectly acceptable gesture.
Martini
The martini is a very serious matter—any bartender who can't make it right might as well throw in his (or her) bar towel.
Ingredients
4 oz. dry gin
Dry Vermouth
Large pitted green olives
Instructions
Fill two stemmed cocktail glasses with crushed ice and allow to chill. Meanwhile, pour gin over plenty of ice in a cocktail shaker. Stir, but not too briskly, or you'll break up the ice and dilute the gin.
Empty ice from glasses and strain gin into the chilled glasses. Float a single squirt of dry vermouth from a vaporizer over the top of the gin and add one or more olives to each glass.