Slightly North of Chardonnay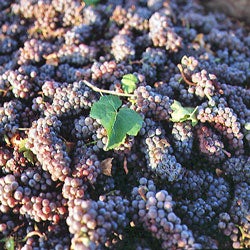 In 1966, a feisty would-be winemaker named David Lett, fresh out of viticulture school at the University of California at Davis, headed for Oregon, where he established The Eyrie Vineyards in an old turkey-processing plant near the Willamette Valley town of Dundee. Hundreds of miles north of California's sunny climate, he wisely planted cool-weather grape varieties on his plot of reddish earth. These included pinot noir, riesling, and a tiny patch of pinot gris. That almost no one had heard of pinot gris back then didn't bother Lett. After all, almost no one had yet heard of Oregon wine, period.
Lett planted a bit more pinot gris every year, making a small quantity of wine from it annually for his own use. Finally, in 1979, he thought he had enough to try to sell: 18 cases. Two years later, production had soared to 100 cases. That was more than enough. "It was nice stuff," Lett recalls, "but who the heck knew?" Most of it sat in the winery, unsold.
Then came the salmon. "There's a fishermen's underground in Oregon," Lett explains, "and when news began to spread that I was making interesting white wine, fishermen started showing up on my doorstep offering to trade wild salmon for pinot gris." Lett soon discovered that the fish and the wine went together particularly well—a fact he'd mention when he started calling on restaurants to sell his wine. When other wineries started making pinot gris, they did the same thing. Salmon and pinot gris is now considered the quintessential Oregon food-wine affinity.
"Pinot gris is a wine that just sneaks up on you," says Stephen Cary, who makes pinot gris and other wines at Yamhill Vineyards in McMinnville. "Maybe it's something in the genetics of the grape. It has a lingering, come-hither sensation that constantly draws you back. After the first sip, you decide maybe the world isn't limited to chardonnay after all."
"We're absolutely evangelical about it," adds another producer, Wendy Mia Lange, of the Lange Winery in Dundee, which releases both a regular bottling, fermented in stainless steel, and a reserve bottling fermented in oak for added viscosity and complexity.
For Oregon vintners, pinot gris is the white wine that's been waiting to happen. The grape is one of those varieties that seem to make graceful wine only when they get just barely enough sun to ripen. With 40 inches of rain a year and otherwise frequently cloudy skies, Oregon's climate is a dreary one. It is, in other words, perfect for pinot gris.
Pinot gris may be new to Oregon, and to the United States in general, but it has a long history in Europe. Ampelographers believe it evolved in Burgundy sometime during the Middle Ages as a natural mutation of pinot noir. From Burgundy, pinot gris traveled all over northern Europe, eventually finding particularly hospitable homes in Alsace and in northeastern Italy . Curiously, the Italian and the Alsatian versions of the wine taste nothing alike: The former is usually light, crisp, and ephemeral; the latter is steely and full bodied.
Oregon pinot gris can be anything from bracingly refreshing to lush and creamy. This variation seems due more to the grapes themselves than to differences in winemaking style. Oregon vintners tend to be, insofar as is practical, hands-off winemakers. This enological minimalism is particularly appropriate for pinot gris. Grapes that have been handled a fraction too much can end up yielding wines with a bitter finish, little fruit, and no more complexity than cardboard. "If you want pinot gris to have any elegance," says Dick Erath, winemaker-owner of Erath Vineyards, "you can't treat the grapes like a door knocker or a yo-yo."
Until pinot gris came along, virtually every modern American wine trend had been born in California. So what of the possibility that the nation's winemaking giant will awaken to the possibilities of pinot gris? It hasn't dampened spirits in rainy Oregon. The renegades who make wine up there have always lived in the shadow of sunny California. This time, the weather report may be in their favor. "Too much sun strips the 'pinot gris-ness' right out of pinot gris," says David Lett. "Too much sun and you get the troglodyte version."