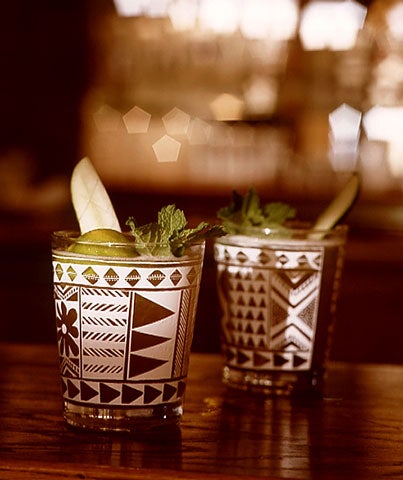 According to the Trader Vic's drinks menu, the recipe for this cocktail, with its name evocative of morning-after woes, comes from Sheppard's Hotel in Cairo.
Yield: makes 2 Cocktails
Ingredients
2 flat wide cucumber spears
2 limes
8 oz. Trader Vic's mai tai mix
2 oz. light rum
2 oz. gold rum
1 oz. dark rum
Mint
Instructions
Score flesh side of cucumber spears in a diamond pattern and set aside.
Rinse limes in warm running water, then halve them. Juice limes, reserving 2 of the spent halves.
Put lime juice, mai tai mix, and rums into a cocktail shaker with plenty of crushed ice and shake well.
Strain into two 14-oz. old-fashioned glasses filled with crushed ice. Garnish each glass with a cucumber spear, a reserved lime half, and a sprig of fresh mint.