Tasting Notes: Kölsch
7 different kinds of Cologne, Germany's favorite beer: Kolsch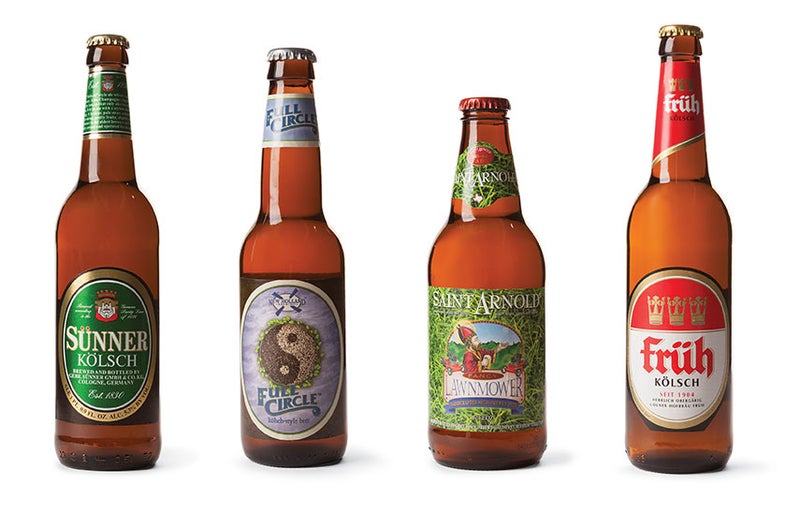 Fruh Kolsch ($4 for a pint): Floral, faintly lemony, and with just a hint of sulfur, this beer is slightly difficult to find in the U.S. but is a terrific example of the style's subtle complexities.
Four Peaks Sunbru Kolsch-Style Ale ($8 for a six-pack): With a wine-like aroma, a mild maltiness, and a light briskness, this canned version from an Arizona brewery goes down great on a hot summer day with a platter of spicy Mexican food.
Gaffel Kolsch ($4 for an 11-ounce bottle): Widely available but still very much the real deal, this is arguably the driest and hoppiest beer of its kind, with a pleasingly bitter finish. Try it with bratwurst or grilled kielbasa.
New Holland Full Circle ($10 for a six-pack): A slightly wheaty beer, particularly in the aroma, this light-bodied brew from Michigan offers a fruity roundness in the front and a drier, more quenching finish.
Reissdorf Kolsch ($4 for a 500 ml bottle): A good introduction to the style, this decidedly lager-ish kolsch is fairly dry and barely fruity—there's a hint of pear—with a touch of astringent sulfur.
Sunner Kolsch ($4 for a 500 ml bottle): Said to have been the first ale produced in the kolsch style, back in 1906, this is a malty beer with a creamy body, light sweetness, and slight hoppiness at the end.
Saint Arnold Fancy Lawnmower Beer ($8 for a six-pack): For years a mainstay of its Houston brewery, this kolsch-style beer is more citrusy than most Cologne originals but not so much that it sacrifices any of its thirst-quenching appeal.