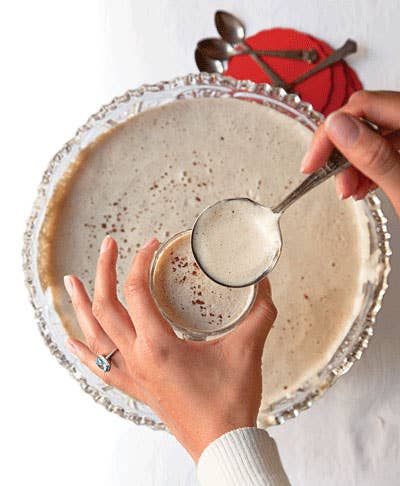 Drinks
Winter's Old Friend
Welcoming Tom and Jerry back to the table.
A decade ago, my wife, Karen, and I spent Christmas in Orange County, California, where we accompanied her brother David to a friend's beach house for cocktails. Given the sunny clime, I figured we'd be sipping margaritas. So, I was stunned when David's friend handed me a Tom and Jerry, a frothy drink of brandy, rum, beaten eggs, hot milk, sugar, and spices. A cousin of eggnog served warm rather than cold, the Tom and Jerry was once one of America's most popular Christmastime tipples, but it fell out of fashion in most parts of the country in the early 20th century. As it turned out, David's friend was from Michigan, and there—and in the other states bordering the Great Lakes—interest in the drink has never flagged. You can find excellent versions at places like the 172-year-old Schwabl's, in West Seneca, New York, near Lake Erie.
The Great Lakes states' devotion to the Tom and Jerry owes in part to the region's tough winters; served warm and shot through with cinnamon, allspice, and cloves, the drink thaws chilled bones. But credit must also be given to Jerry Thomas, a bartender who was born on the shores of Lake Ontario circa 1830. Despite the similarity between the drink's name and his, Thomas did not invent the libation; it was probably named for two characters in the 1821 English novel Life in London. But Thomas was the Tom and Jerry's most tireless promoter. He served it at the many saloons he operated in cities across the country; he even had pet white rats named Tom and Jerry. By the late 19th century, special Tom and Jerry bowls and mugs had become wintertime fixtures in American bars (see Vintage Cheer). Those days are gone, but for me the Tom and Jerry hasn't lost its power to comfort the body and heart, even at a California beach house.